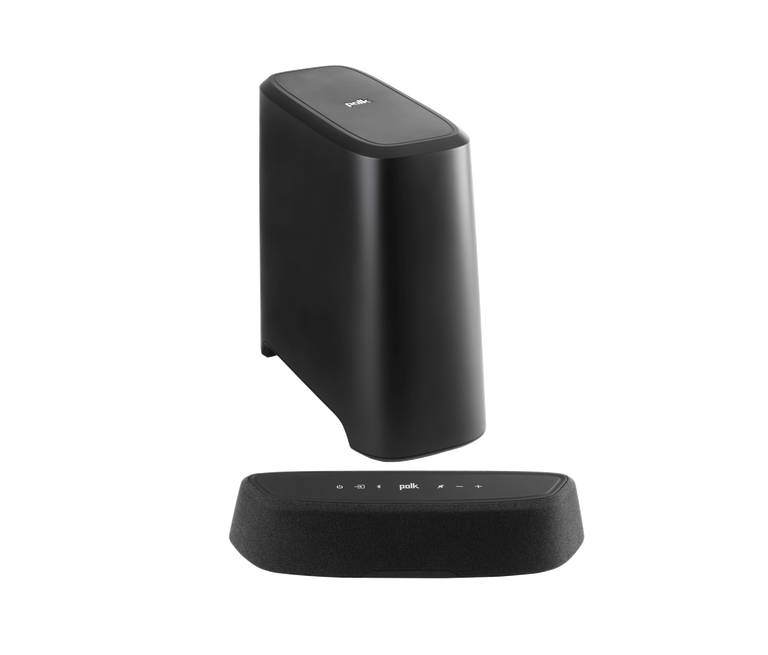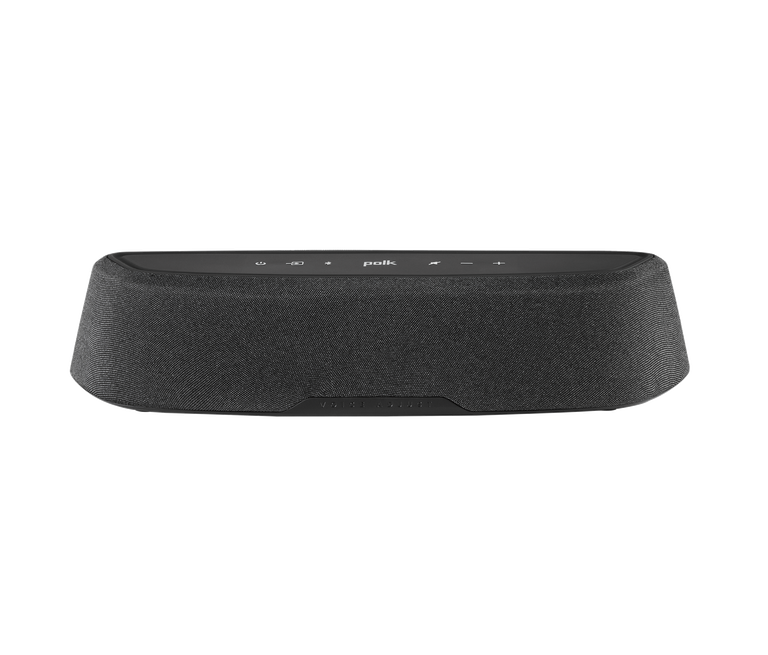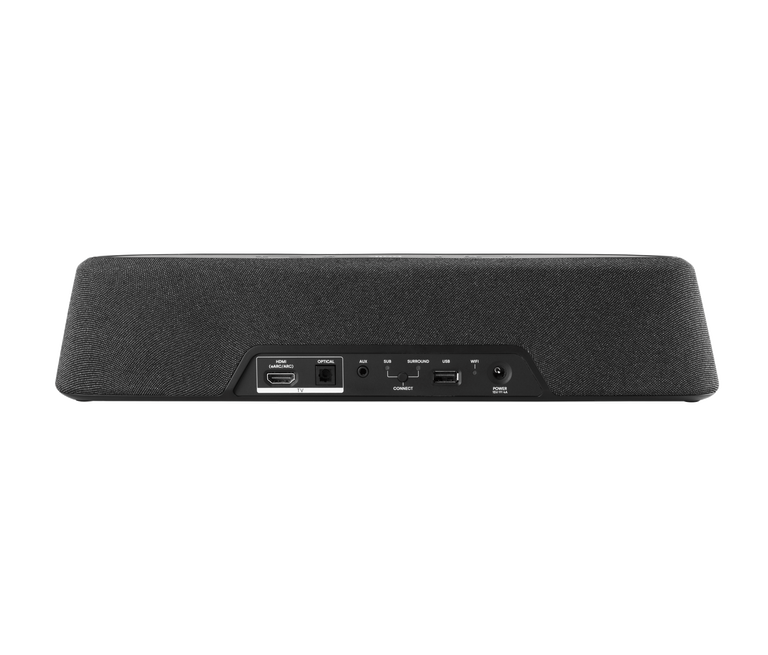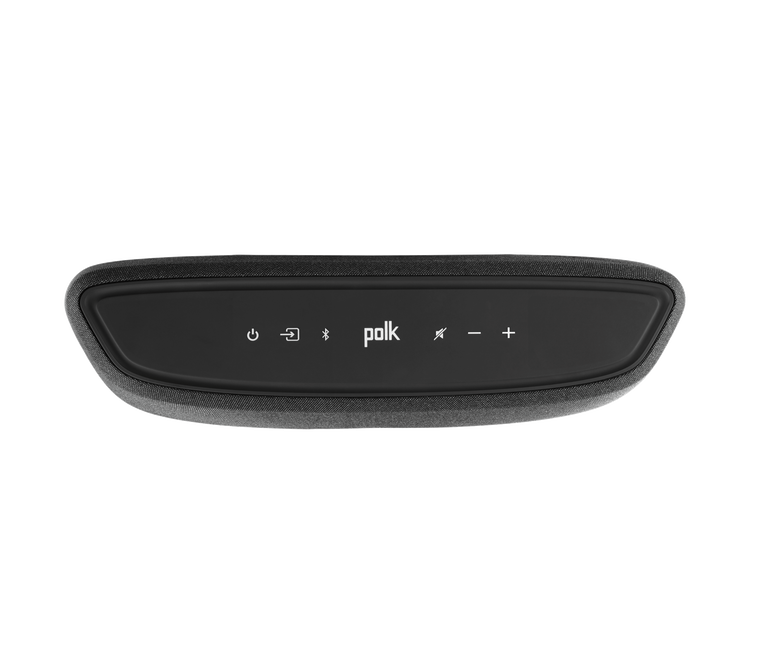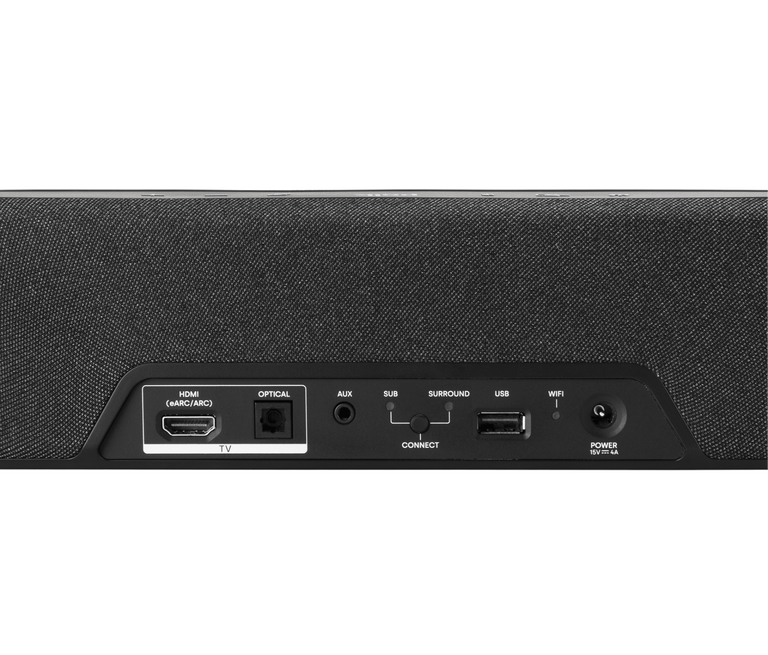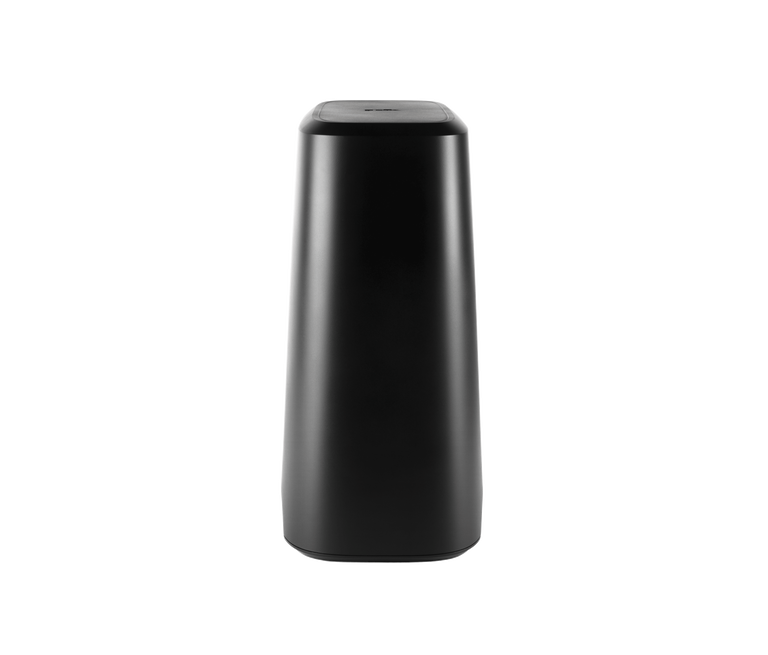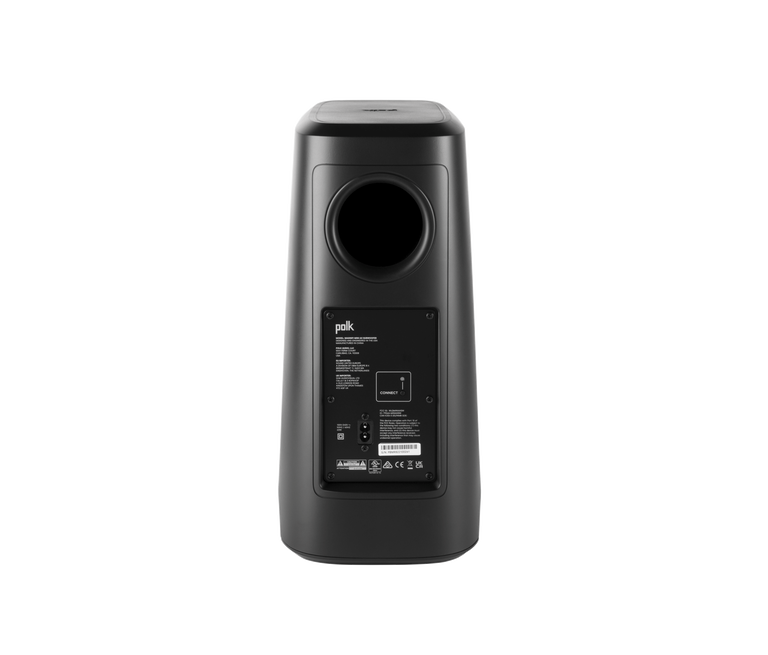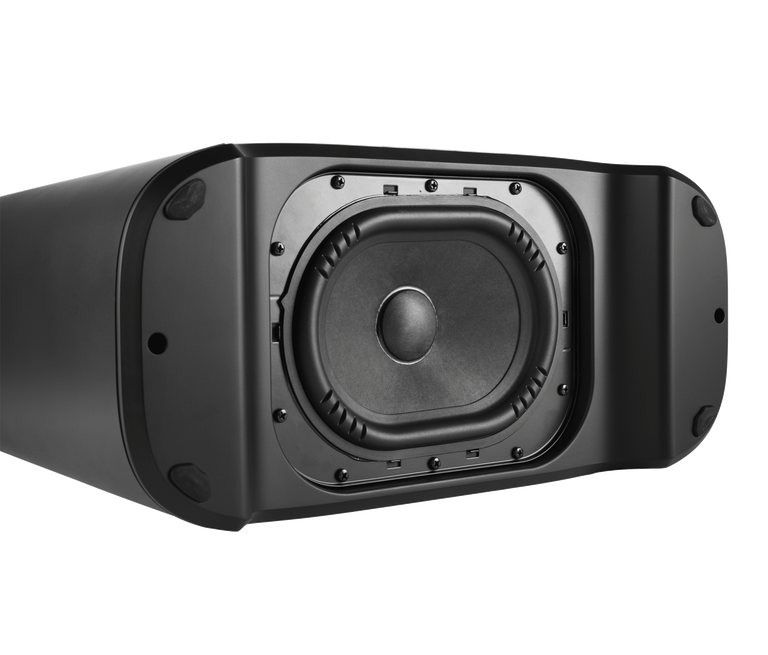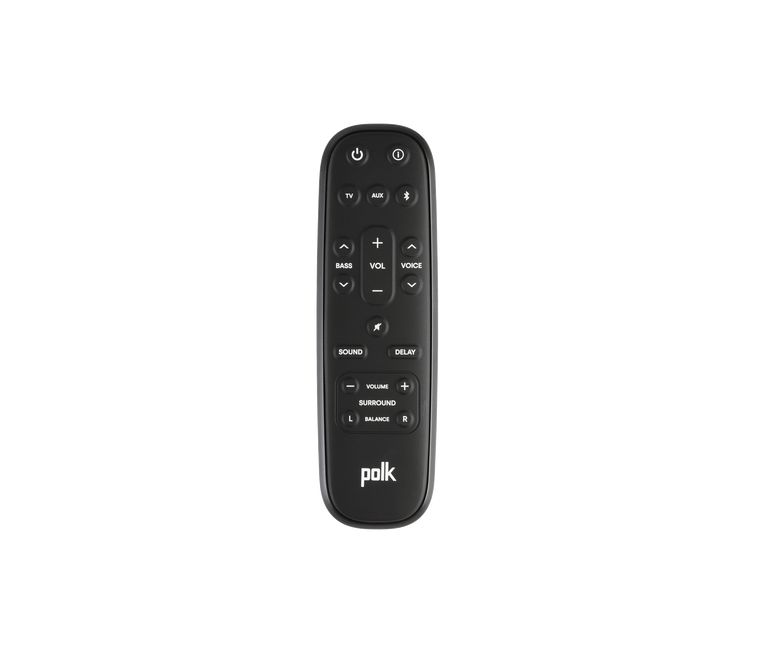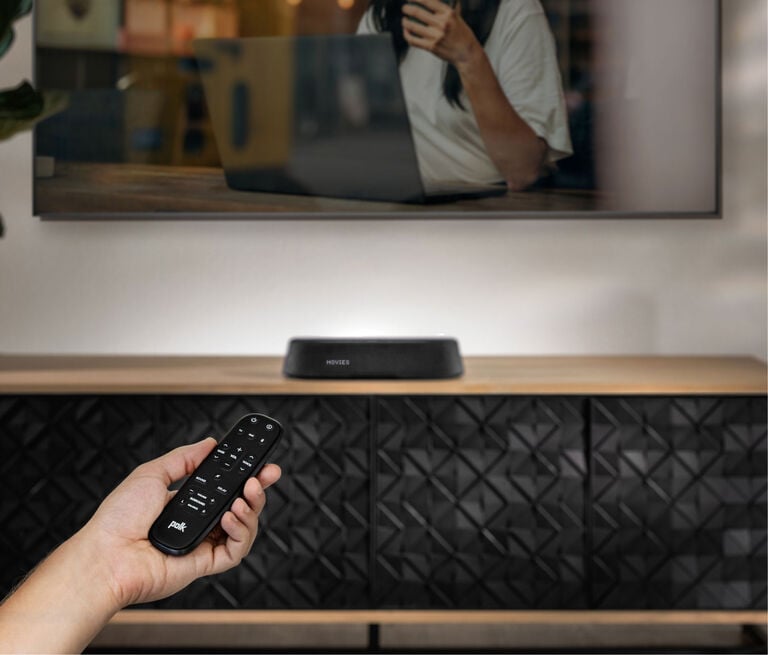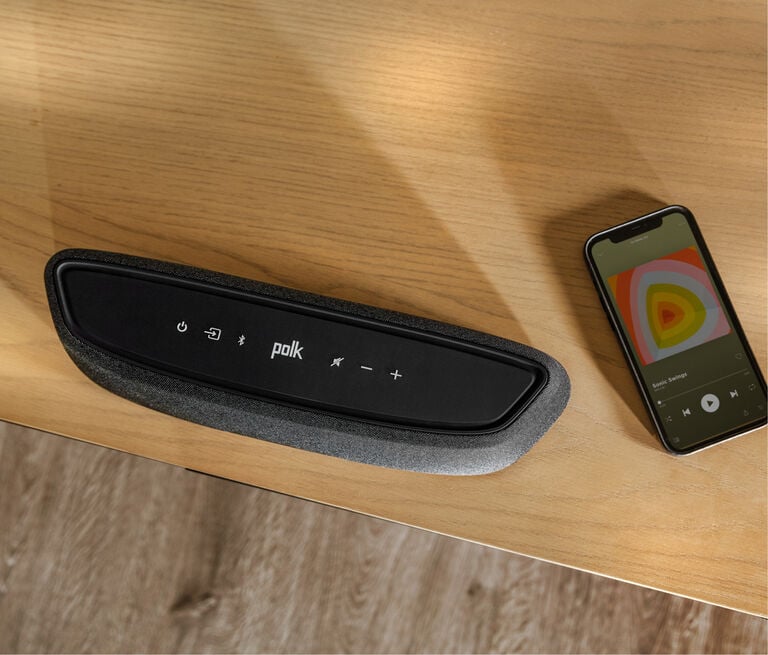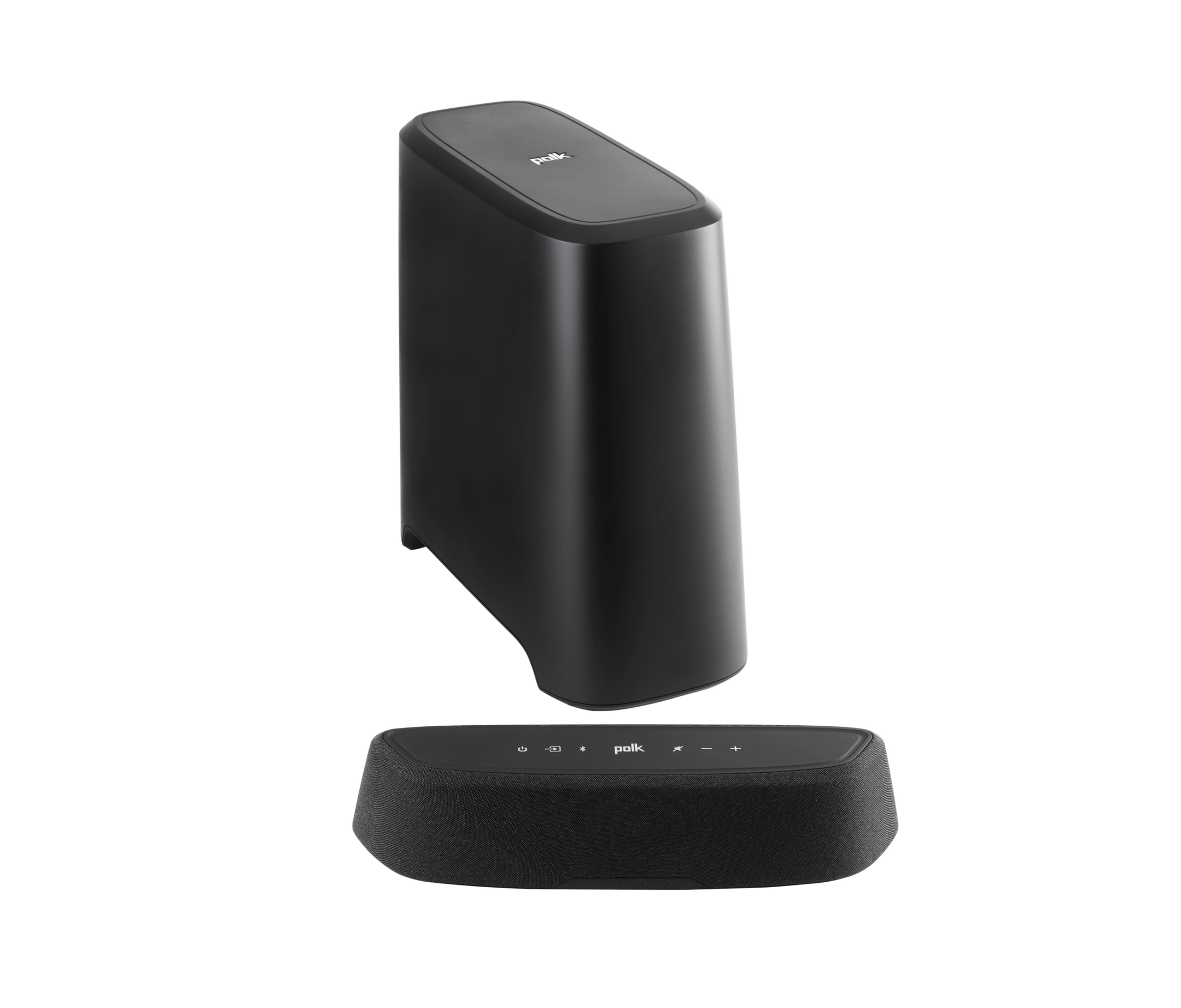 Ultra-compact Dolby Atmos Sound Bar with wireless Subwoofer
---
---
Experience movies, TV, and games in cinematic, Dolby Atmos and DTS:X surround sound and stream music via Apple AirPlay 2, Chromecast, and Bluetooth with Polk's advanced sound bar and subwoofer system.
Immersive Audio with Dolby Atmos, DTS:X, and Polk SDA 3D Audio Technology
Stream Music via Wi-Fi (Google Chromecast, Apple AirPlay 2, Spotify) or Bluetooth
Hear Every Word of Dialogue with Patented VoiceAdjust™ and Dedicated Center Channel
Works with any TV: HDMI, eARC, Optical, and AUX
MagniFi Mini AX
MagniFi Mini AX
Superior sound from Polk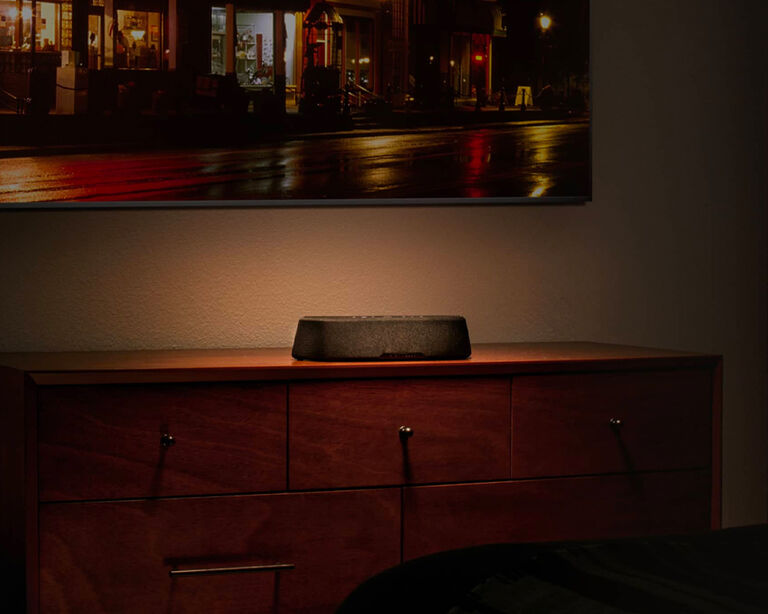 Ultra compact with powerful, room-filling sound
At an amazingly compact 37cm wide, MagniFi Mini AX leverages 50 years of Polk loudspeaker engineering and an advanced five-speaker array to upgrade your TV sound with deep, impactful bass, crystal clear highs, and an expansive 3D soundstage rivaling much larger sound bars.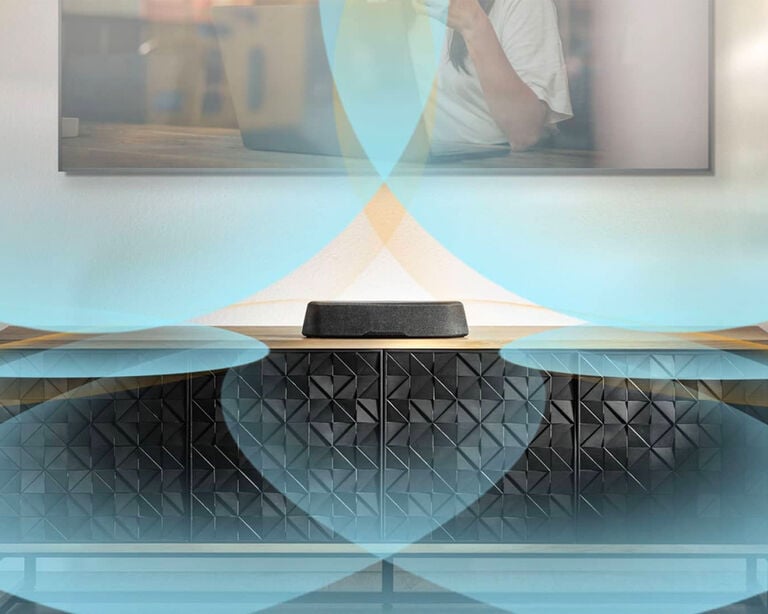 Enjoy Cinematic Surround with Dolby Atmos, DTS:X, and Polk SDA
Experience a level of cinematic surround sound that you'd never expect from a 15" sound bar via certified Dolby Atmos and DTS:X that's optimized in MagniFi Mini AX with our patented SDA technology for an even wider, more accurate soundstage. In addition, Movie Mode transforms stereo audio to 360-degree surround sound.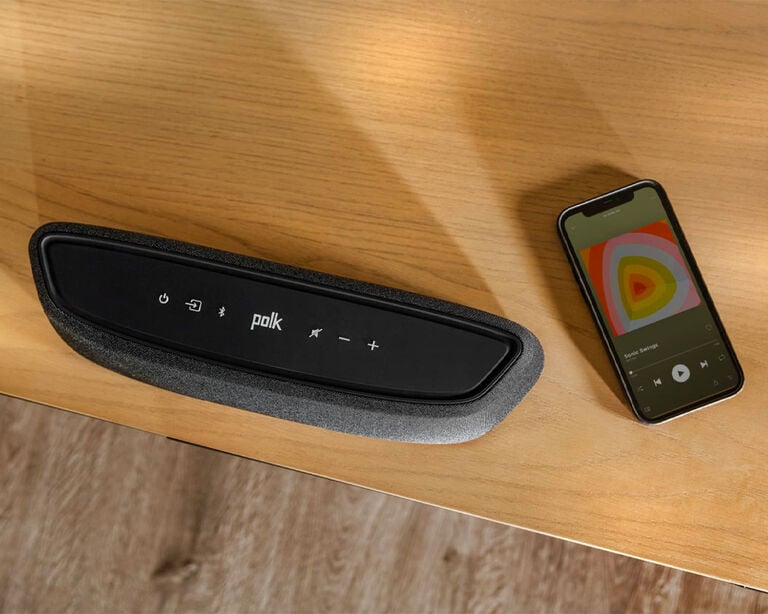 Complete Wireless Home Audio Entertainment with High Quality Music Streaming
Enjoy higher-quality music streaming from your phone, tablet, or computer over Wi-Fi with Apple AirPlay 2, Google Chromecast, and Spotify Connect*. Easily connects to devices via Bluetooth, too. *Spotify Connect support may require firmware update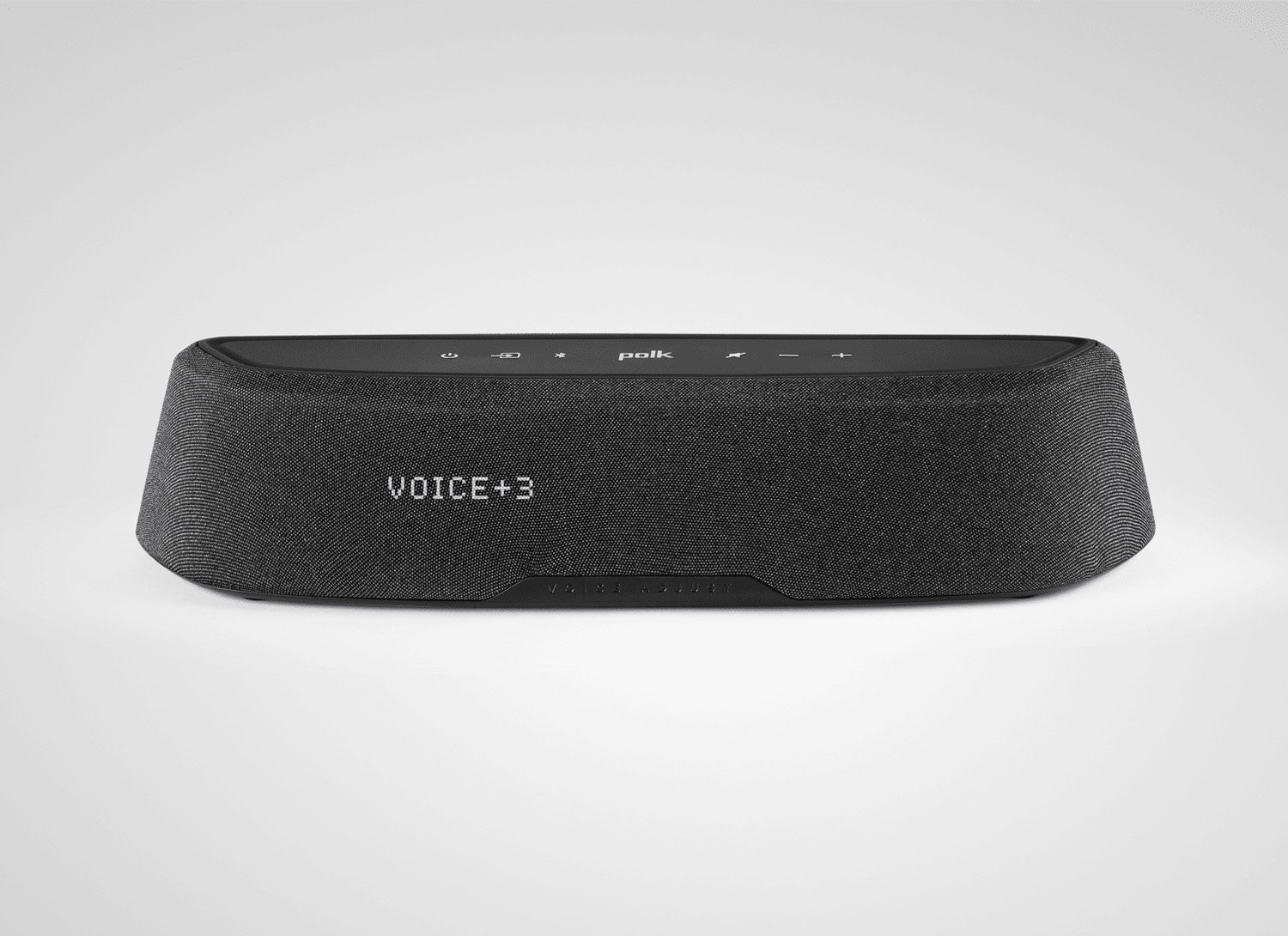 Polk VoiceAdjust™
Hear Every Word
Tired of riding the volume control? Never miss a word of dialogue again. Polk's patented VoiceAdjust™ speech-clarifying technology works synergistically with MagniFi's integrated centerchannel speaker to bring up the level of voices without affecting the rest of the soundtrack.
Compact Wireless Subwoofer for Effortless Bass
Get maximum bass impact with a powerful and convenient wireless subwoofer
MagniFi's powerful, next-gen, wireless down-firing subwoofer connects automatically and can be placed anywhere up to nine metres from the sound bar to deliver the deep, effortless bass that Polk is famous for. Plus, use BassAdjust to maximize bass impact.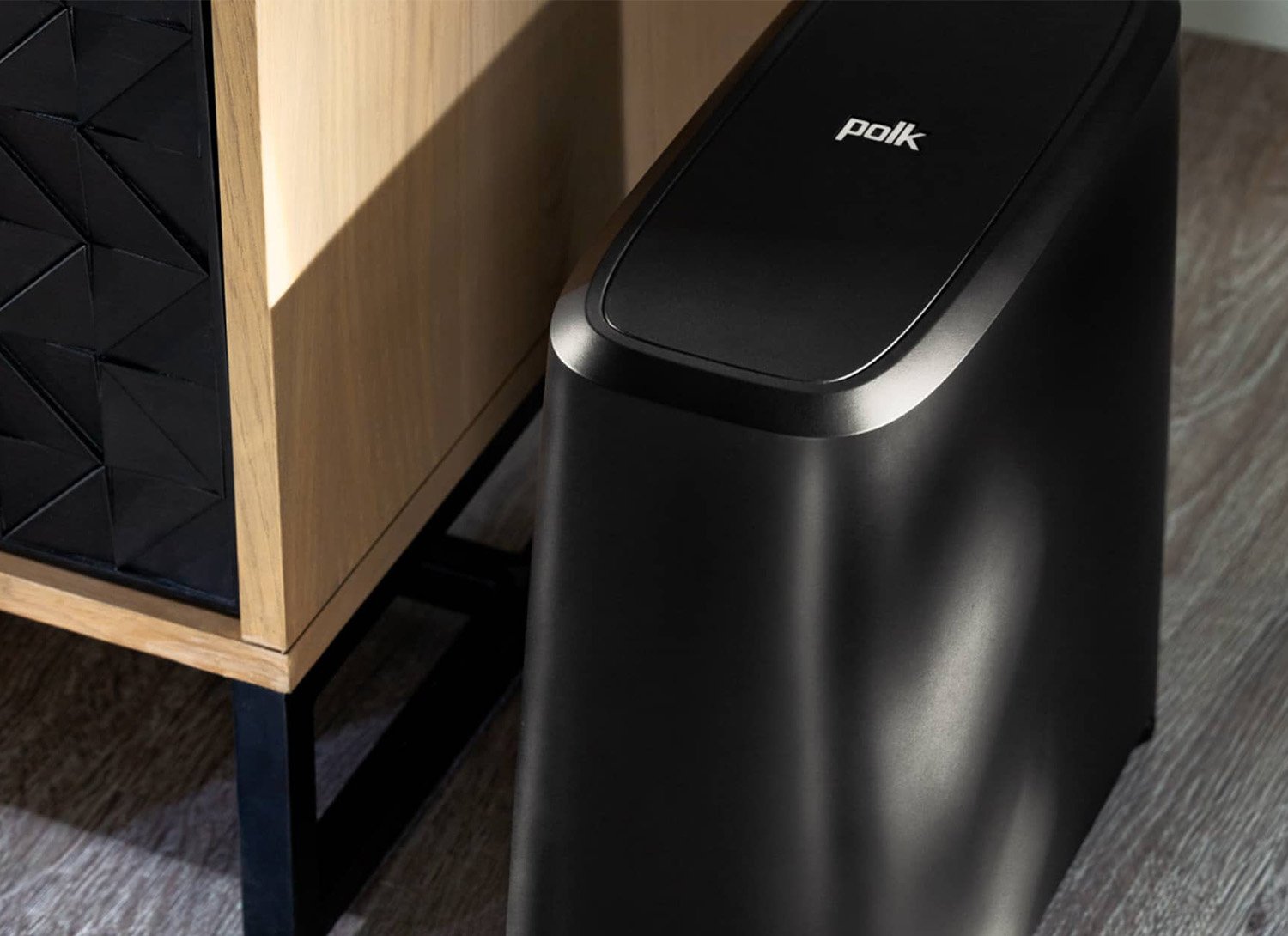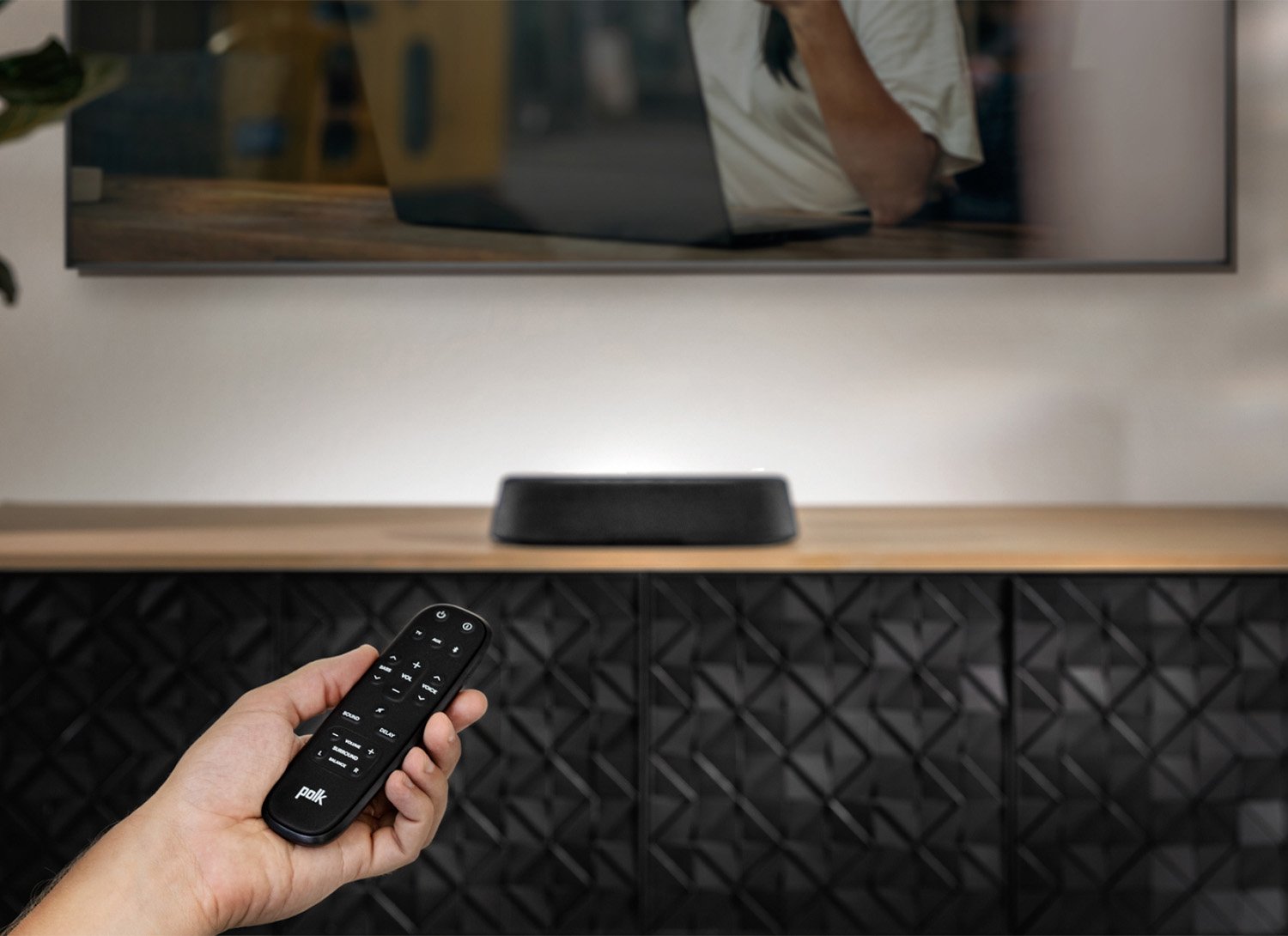 Music, Movie, TV, Night and Auto Modes
One-click sound modes optimize MagniFi for whatever or whenever you're watching
Optimize bass, clarity, and soundstage for movie watching, gaming, and music listening. Night Mode turns up the dialogue and turns down the bass for late-night watching without disturbing the neighbors.
Easy Setup and Universal Compatibility
Sets up quickly with any TV
Easy, one-cable set-up with any TV via HDMI eARC/ARC (HDMI cable included), optical, or AUX-in. Convenient OLED display makes settings easy to understand and disappears when not in use. Plus, MagniFi works with most TV remotes out of the box (and includes a remote).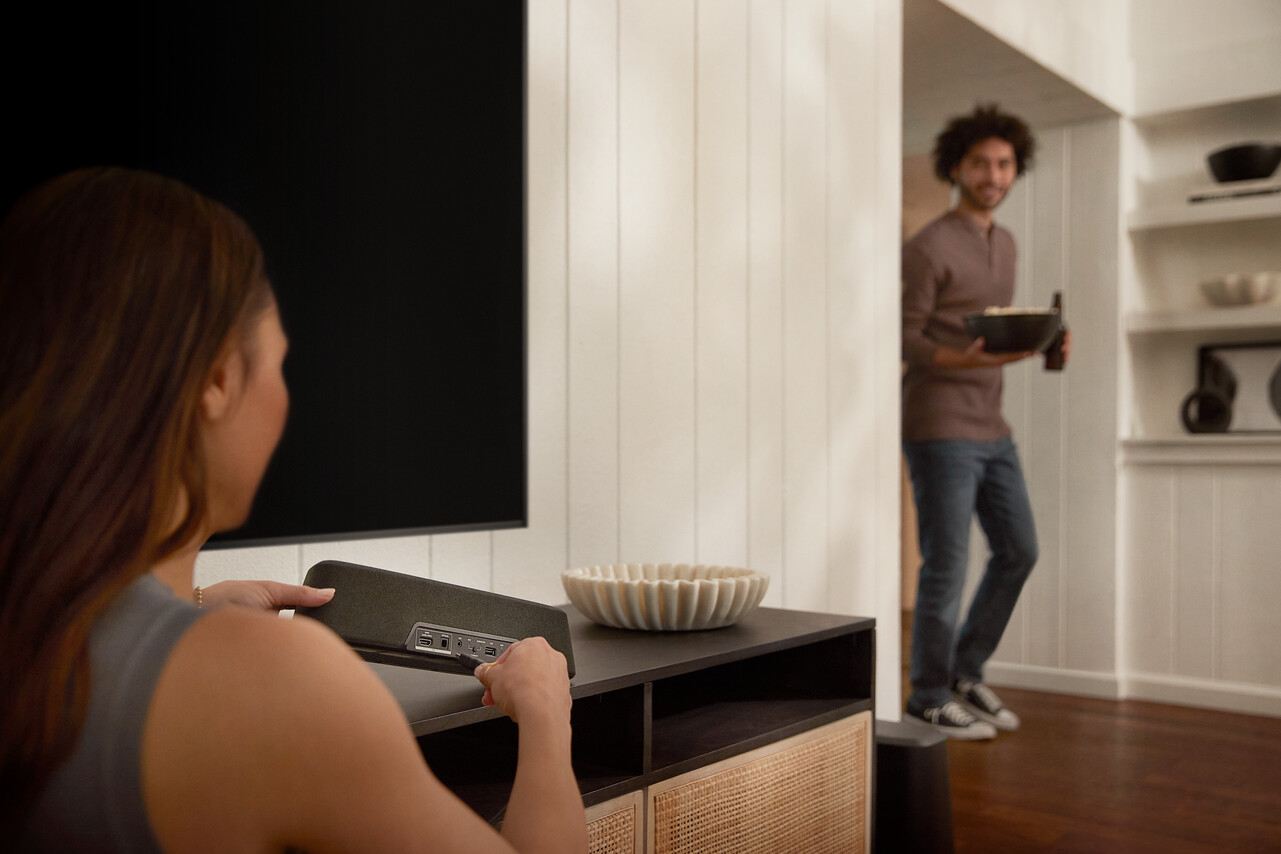 Enjoy seamless integration with Spotify, allowing you to easily access and stream your favourite songs, albums, playlists and more in high quality over Wi-Fi.

With Wi-Fi certification, Polk Audio devices provide seamless and stable wireless connectivity, enabling easy integration into your home network for high quality music streaming and wireless control.

Stream audio or video from your favorite streaming services using your smart device. Hear audio perfectly synced to your speakers from AirPlay 2 sources. AirPlay 2 also supports multi-room audio.

Upgrade your home theater with height speakers to unleash a fully immersive 3D audio experience, or engage all speakers to create a 3D audio sensation from legacy content even without height speakers.

DTS:X immersive audio content places sound where it would naturally occur in space, creating lifelike, multi- dimensional audio. DTS Neural:X upmixer offers heightened realism for legacy content.

Polk-patented SDA (Stereo Dimensional Array) technology creates an expansive soundstage and detailed stereo image, while delivering a multi-dimensional sound experience.

Connect and play music directly from your smartphone, tablet or other compatible device.

Use Google Chromecast for audio to stream music from your favourite apps including Google Play Music, YouTube Music, Amazon Music HD, Spotify, Tidal, Pandora, Deezer, Qobuz, iHeart Radio and more over Wi-Fi.

Google Home or other devices with Google Assistant built-in can control content across your listening environment. Ask your Google Assistant to control volume, play, pause, skip tracks and more.

eARC (Enhanced Audio Return Channel) makes playing TV audio simple with a single HDMI connection. eARC supports HD and 3D audio formats such as Dolby TrueHD, DTS HD Master Audio, Dolby Atmos and more.

Integrates with a Roku TV's sound settings, has a simpler Roku TV setup process, and can be controlled with your Roku remote control.

Adjust the vocal levels from the sound bar with Polk Voice Adjust technology for clear, easy-to-understand dialogue.

One-button presets for movie watching and music listening, along with Night Mode—so you won't wake the neighbors or kids during late-night bingewatching sessions.

Proudly engineered and designed in Baltimore, Maryland, Polk products are crafted to meet high standards of quality, performance, and reliability, ensuring a premium audio experience that is the pinnacle of American Hi-Fi.

Enjoy seamless integration with Spotify, allowing you to easily access and stream your favourite songs, albums, playlists and more in high quality over Wi-Fi.

With Wi-Fi certification, Polk Audio devices provide seamless and stable wireless connectivity, enabling easy integration into your home network for high quality music streaming and wireless control.

Stream audio or video from your favorite streaming services using your smart device. Hear audio perfectly synced to your speakers from AirPlay 2 sources. AirPlay 2 also supports multi-room audio.

Upgrade your home theater with height speakers to unleash a fully immersive 3D audio experience, or engage all speakers to create a 3D audio sensation from legacy content even without height speakers.

DTS:X immersive audio content places sound where it would naturally occur in space, creating lifelike, multi- dimensional audio. DTS Neural:X upmixer offers heightened realism for legacy content.

Polk-patented SDA (Stereo Dimensional Array) technology creates an expansive soundstage and detailed stereo image, while delivering a multi-dimensional sound experience.

Connect and play music directly from your smartphone, tablet or other compatible device.

Use Google Chromecast for audio to stream music from your favourite apps including Google Play Music, YouTube Music, Amazon Music HD, Spotify, Tidal, Pandora, Deezer, Qobuz, iHeart Radio and more over Wi-Fi.

Google Home or other devices with Google Assistant built-in can control content across your listening environment. Ask your Google Assistant to control volume, play, pause, skip tracks and more.

eARC (Enhanced Audio Return Channel) makes playing TV audio simple with a single HDMI connection. eARC supports HD and 3D audio formats such as Dolby TrueHD, DTS HD Master Audio, Dolby Atmos and more.

Integrates with a Roku TV's sound settings, has a simpler Roku TV setup process, and can be controlled with your Roku remote control.

Adjust the vocal levels from the sound bar with Polk Voice Adjust technology for clear, easy-to-understand dialogue.

One-button presets for movie watching and music listening, along with Night Mode—so you won't wake the neighbors or kids during late-night bingewatching sessions.

Proudly engineered and designed in Baltimore, Maryland, Polk products are crafted to meet high standards of quality, performance, and reliability, ensuring a premium audio experience that is the pinnacle of American Hi-Fi.

Easy setup

Enjoy great sound in minutes

Easy setup

Enjoy great sound in minutes

Simply connect MagniFi to your TV's HDMI eARC/ARC, optical, or aux-in and you're ready to go. HDMI cable included.

Use the included MagniFi remote control or the remote that came with your TV. MagniFi Mini AX is programmed to work with most TV remotes out of the box.

MagniFi Mini AX is Roku TV Ready™ certified to work seamlessly with any Roku TV™, so you can enjoy smooth setup, easy access to sound settings, and compatibility with any Roku TV remote.

Exactly what your home needs

Exactly what your home needs