July 15, 2018
What Bass Reflex Systems Mean for Your Subwoofer
Article written by POLK STAFF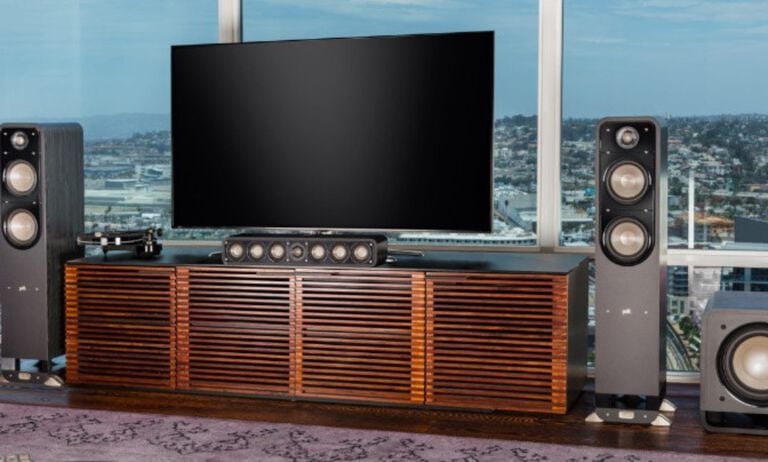 You probably realize that quality subwoofers are essential to home theater systems, providing the robust, forceful bass that makes for a truly immersive entertainment experience. However, you may not know precisely what features to look for when completing your speaker setup. One key aspect that can make a significant difference in overall performance is a bass reflex system.
How a bass reflex system works
The difference between speakers with bass reflex systems and those without them, comes down to how the enclosures are constructed to direct airflow. When you are choosing a speaker or subwoofer, you may be faced with the question of whether you prefer a design that's sealed or ported. A bass reflex speaker includes a port or vent that enhances low-end frequencies by channeling sound from the rear of the speaker diaphragm.
Ported enclosures can have a number of advantages for a speaker's capabilities. A well-constructed bass reflex speaker is precisely tuned so the sound from the rear is in phase with the waves coming from the front. In comparison to models with sealed enclosures, vented subwoofers often produce sound at higher volumes with less distortion and increased efficiency. They offer greater bass response and extension, meaning the audio can go deeper for demanding sound effects in home theater or core-pounding impact in music - always capturing a fuller dynamic range.
It's important to note that there are possible drawbacks to certain bass reflex designs as well. Most significantly, lower-quality ported speakers make an audible noise when air passes through. And performance might fall off when a speaker like that is driven too hard, eliminating the benefits for distortion-free, accurate sound.
Get the best subwoofer sound with Power Port technology
To get the full benefit of a bass reflex system, you need a subwoofer that's engineered to distribute consistently rich, clear, dynamic sound minus unwanted distortion. When a subwoofer is built and tuned to the highest standards, there should no issue with noticeable port noise. That's why it's important to select a high-performance subwoofer like the ones in Polk Audio's HTS series, featuring the unique Power Port technology.
The Power Port is a bass reflex system that stands apart from others because of its floor-firing design and exceptional results. Directing the airflow downward, the HTS 10 and 12 provide massive impact and minimal distortion, with port noise three decibels quieter than most subwoofers that don't have it. Add in plenty of power from a Class-D amplifier and built-in controls for variable volume, low pass filter and phase, and you have a subwoofer that's built for nuanced, immersive bass reproduction.
Explore the advantages of Polk Audio's full range of subwoofers to find the perfect combination of dynamics, clarity and efficiency that unlocks huge sound for your home theater.