March 06, 2018
What Makes Floor-Standing Speakers Really Stand Out?
Article written by POLK STAFF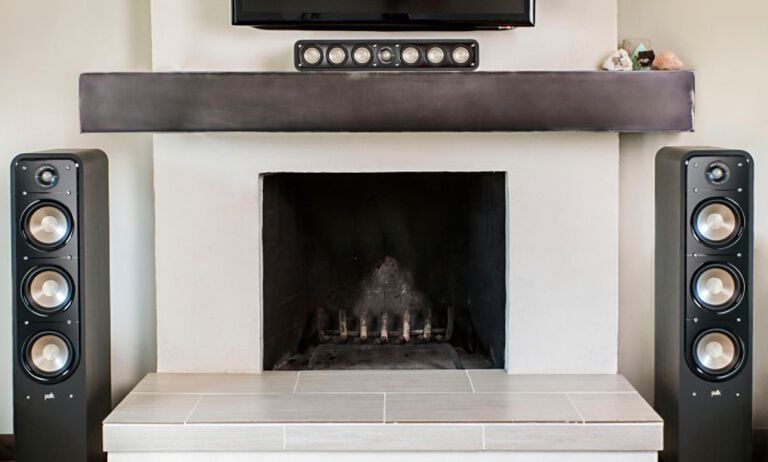 When space is at a premium, you might opt for home theater speakers with a small footprint. However, if you're looking for the fullest, most powerful sound, commit to making room for floor-standing speakers. You can achieve the results you're after by taking into account several key factors that make the best speakers stand apart.
Flat frequency response means accurate sound through floor-standing speakers
Any time you're shopping for speakers, it's vital to consider how they perform across a range of frequencies. You can get a sense for these sonic capabilities by looking at a chart that shows frequencies, measured in Hertz, against the sound pressure level in decibels. When your system provides the flattest possible response covering the audible frequencies from 20 to 20,000 Hz, you'll consistently enjoy an authentic reproduction of music the way it was originally recorded.
That's because a flat frequency response ensures that the tonal character of the recorded sound, its timbre, comes through. By putting together a home theater system with speakers that have matching timbres, you optimize the blending from one frequency range into another and the overall immersive effects. It's a good idea to purchase a complete collection with timbre-matched center channel, surround and tower speakers.
Driver configurations and dynamic range elevate floor-standing speakers
One of the main advantages of floor-standing speakers is that they incorporate multiple drivers, covering various ranges and bringing them all together smoothly. The most common configurations are two-way speakers, consisting of a tweeter and a woofer, three-way models that add a midrange driver, and four-way speakers designed to contribute subtle details to the high end. Speakers with the right combination of drivers to suit your needs offer powerful and unique dynamics worth considering to make listening to music or watching movies that much more immersive and captivating.
The Polk Audio S60 American HiFi tower speaker features a 1" Terylene tweeter for highs and three 6.5" mica-reinforced polypropylene drivers for midrange and bass. The speaker features patented Polk Power Port technology, which is a passive radiator that extends low-end response while minimizing distortion. It all combines to produce highly realistic sound that fills the room and can support the demands of today's surround sound formats.
What is the best floor-standing speaker?
If you want to dig deeper into what makes one floor-standing speaker better than another, take a look at how they're built. Cabinet resonance within the speaker enclosure can be a major cause of distortion, so choose a speaker that's built to minimize vibration. For example, Reserve floor-standing speakers feature Polk's new Power Port 2.0 which is the latest version of our successful Power Port technology. In addition to Power Port's carefully engineered port design that smooths the flow of air as it exits the cabinet through the port, X-Port adds a set of closed-pipe absorbers that are specifically tuned to unwanted cabinet and port resonances. Together, these two technologies combine to function as Power Port 2.0 to deliver smooth, detailed audio.
Of course, looks matter too, which is why Reserve floor-standing speakers comes in both black and brown walnut wood finishes. Floor-standing speakers become a prominent part of your home's decor, so consider how their look and feel fits into your listening area.
All that being said, you've got options! And Polk Audio offers a wide range of floor-standing speakers to ensure your audio system features the exceptional sound and attractive design you're looking for in a setup.