December 20, 2022
Inside the Reserve R200ae's Upgraded Crossover Network: Unveiling Clarity and Definition
Article written by SARAH JONES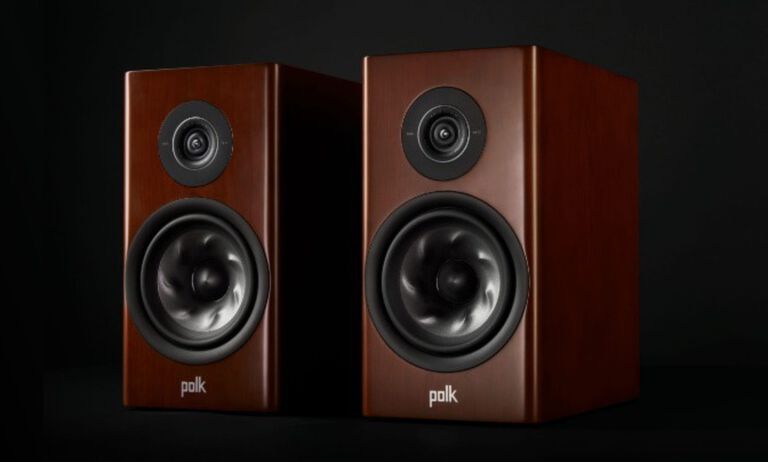 When our engineers set out to create the Reserve R200AE Limited 50th Anniversary Edition bookshelf speaker, they aimed to encapsulate everything that makes our award-winning R200 an embodiment of "the Polk sound," incorporating core signature technologies like our Pinnacle Ring Tweeter, Turbine Cone Woofer, and X-Port. Then, they added special touches they knew Polk enthusiasts would swoon over, like gold-plated binding posts and classic Polk cherry wood veneers.
Yet one of the R200AE's most significant acoustic innovations is under the hood: the most advanced crossover network we've ever designed. Join us as we dive a little deeper—but first, a brief refresher.
WHAT'S A SPEAKER CROSSOVER?
A crossover is a filter network in a multi-driver system that splits a full-range audio signal into frequency bands and sends those signals to drivers that are optimized to reproduce those frequencies. Think of the crossover network as the "brains" of your speaker system.
Crossovers are critical to speaker system performance: By sending drivers just the frequencies they are designed to reproduce, the drivers operate more efficiently, and overall system volume potential and dynamic capability are greatly improved.
An active crossover requires power and uses a DSP chip or microprocessor to divide frequency bands, while a passive crossover uses resistors, capacitors, and inductors to fix the crossover point for a speaker or group of speakers. This process sounds deceptively simple, but speaker engineers spend an extraordinary amount of time and energy painstakingly perfecting each crossover element, from crossover frequency and filter slope to component quality, because they all have a huge impact on system performance.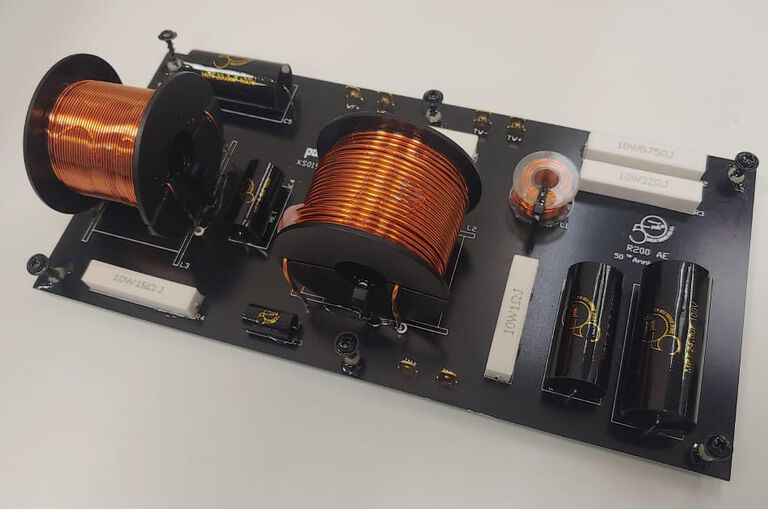 The R200AE's new crossover network
THE R200AE'S CROSSOVER NETWORK
Our goal with the R200AE was to preserve the iconic sonic profile of the R200, so that meant keeping system voicing and crossover topology and component values the same.
Instead, we upgraded the circuit board and the components themselves. We started by changing all of the steel laminate core inductors to air core. "This results in a much larger coil to keep the DC resistance the same," explains Scott Orth, Polk's Director of Audio Acoustical Systems. "The effect of the change is lower distortion, especially at high levels. For me, this is the most significant change."
Electrolytic capacitors in the mid-bass channel were upgraded to polyester metal film capacitors, and 100V polypropylene and 100V polyester film caps in the tweeter channel were upgraded to 250V and 100V polypropylene capacitors, respectively, leading to improved clarity and reduced distortion. We also increased the power rating of all resistors, for better stability with temperature; this is most apparent when the speaker is played hard.
We upgraded the PCB by both increasing copper thickness and increasing board size to accommodate the larger components and allow for wider traces. Quick-connect hardware was changed from nickel plating to gold plating for even lower circuitry losses, which were already very low as a baseline.
The end result is "a speaker that has more of what I call 'the black space between instruments,'" Orth says. "The very low-level distortion and noise are reduced, so the clarity and definition of the speaker are improved. To me, the speaker sounds more relaxed and able to communicate better. Reverb tails decay more cleanly, imaging is more precise, more low-level detail is revealed. The R200 was great to begin with; this change just lifts the veil a bit."
We're thrilled that the R200AE pays homage to 50 years of innovation while remaining true to the classic R200 sound that's beloved by Polk fans, and we know that you will be, too. Follow the link below to learn more about this very special, limited-run speaker.
Products Featured in This Article