January 25, 2023
7 Atmos Titles That'll Impress Any Film Fan at Your Next Movie Night
Article written by SARAH JONES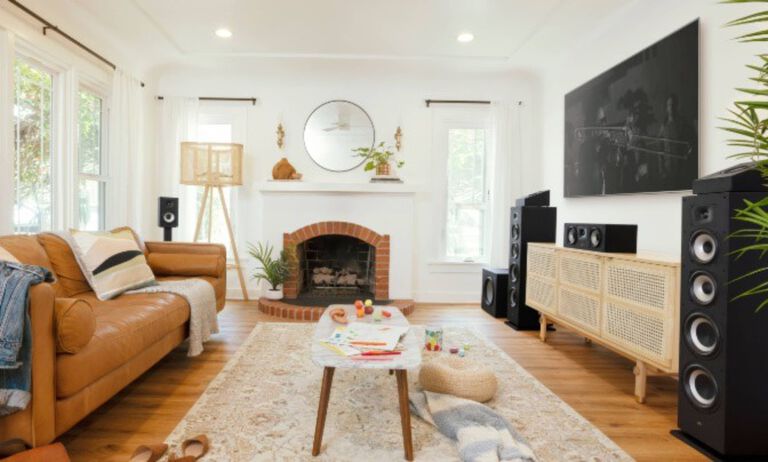 Set the stage for an immersive home theater experience with a Monitor XT Atmos system.
Whether you're hanging with your partner, your pals, or a house full of kids, movie night is the perfect excuse to slow down, get cozy, and settle in for some quality time at home. Make movie night even more special—and flex your sound system to the max—by revisiting your favorite films in Dolby Atmos.
Not sure where to begin? We've rounded up a handful of modern classics that deliver the next-level thrills of immersive Dolby Atmos sound, whether your home theater is based on a sound bar or a component system. Cue any of these titles up and get ready to be amazed.
THE MATRIX
This sci-fi blockbuster, which already featured some of the most innovative visual and sonic effects of its time, got the 4K/Atmos treatment when it was remastered in 2018. Even if you've already memorized which pill to take, you'll be on the edge of your seat when you experience this classic all over again in dazzling immersive sound.
Memorable moment: Feel deep bass explosions in your gut and hear the whoooooooosh of bullets flying all around you in the iconic lobby shootout scene.
BOHEMIAN RHAPSODY
Every sonic moment of this Queen biopic is gold, but we'll cut to the chase: The film's final 20 minutes, which re-create the band's legendary 1985 Live Aid performance at Wembley Stadium, convey an astonishingly lifelike concert experience. To create ultra-realistic sound, the film's audio team played film tracks through a PA in an empty stadium and captured the sound with a couple dozen microphones. It's the closest feeling you can get to being there, live.
Memorable moment: The performance of "We Are the Champions," from the opening claps and stomps to the mighty roar of the finale, gets us every time.
DUNE (2021)
Sound is practically a main character in this latest adaptation of Frank Herbert's legendary classic, grounding the film's surreal sci-fi visuals in an organic audio aesthetic. (Of the more than 3,200 sound effects created for the film, only four were synthesized.) The sound design is so effective, and Hans Zimmer's music so gorgeous, they earned the film Academy Awards for Best Sound and Best Original Score.
Memorable moment: From the ethereal vertical soundscapes of vast, empty landscapes to bone-shaking explosions, the immersive sound is all about balance and contrast. And sandworms!
BLACK PANTHER
Five years after its release, this groundbreaking Marvel superhero film continues to live up to its hype. With everything from the sound effects of Wakanda to composer Ludwig Göransson's rich, inventive score to Kendrick Lamar's hip hop-inspired soundtrack anthems sounding even more incredible in Atmos, it's the perfect film to re-create the movie theater experience at home.
Memorable moment: Pick a fight scene, any fight scene, to delve deep into sound with incredible height and depth effects. If a car chase is involved, even better.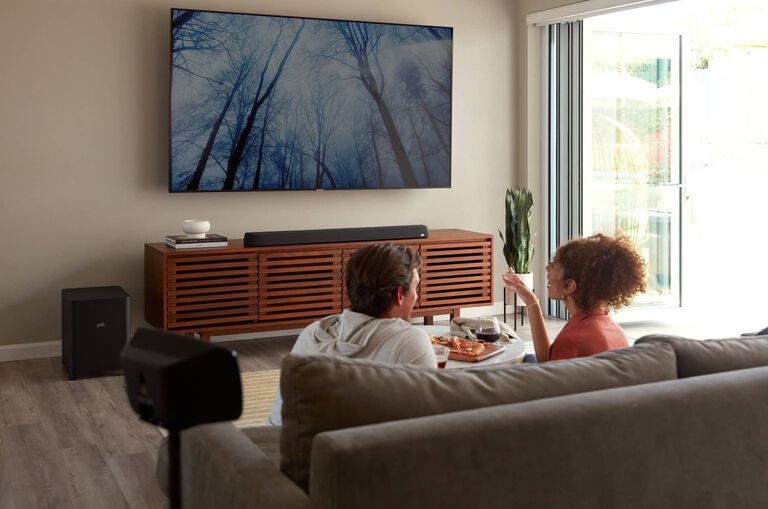 Sound bar systems like MagniFi Max AX SR provide immersive Dolby Atmos sound in a compact package.
COCO
Celebrating V-Day with the family? Take another look at the classic tale of Miguel and his pursuit of his musical passion. It's worth seeking out the 4K Ultra HD release of Pixar's Oscar-winning animated feature, which takes full advantage of Atmos sound, offering a dazzling feast for the eyes and ears that never resorts to gimmickry.
Memorable moment: You just might find yourself ducking during the Dia de los Muertos celebration, when fireworks shatter the skies overhead.
LA LA LAND
Atmos sound doesn't have to be all about thunder and explosions. This throwback to old-school Hollywood films balances intimate moments with big musical numbers, drawing you deep inside with immersive atmospheric effects. It's perfect for anyone seeking classic cinematic style with contemporary treatment.
Memorable moment: Cue up a big musical number and immerse yourself in a chorus of voices coming at you from every direction.
BLADE RUNNER 2049
Like its 1982 predecessor, Blade Runner 2049 is never really about dialing things up to eleven—which gives the most sound-intensive scenes extra weight without resorting to cacophony. Lose yourself in the action as Hans Zimmer and Benjamin Wallfisch's moody, synthy score, a nod to Vangelis' iconic original, washes over and all around you.
Memorable moment: Dolby Atmos elevates the movie's final, climactic scenes with dazzling overhead sound, from the ever-present rain falling overhead to cars exploding in the sky as the final showdown approaches.
Looking for more ways to flex your immersive home theatre sound system? These films and hundreds more titles with Atmos soundtracks are available on UHD Blu-ray disc (check your player compatibility if you have an older model) as well as on premium tiers of services like Amazon Prime Video, Apple TV+, Disney+, Netflix, and Vudu. Combine your favorite Atmos content with a 4K or UHD TV and a Dolby Atmos sound bar such as the Polk Signa S4 or MagniFi Max AX—or go all-out with a component Atmos system like the Monitor XT Dolby Atmos System—and you'll be ready to enjoy all of the excitement of the movie theater experience right from your couch.
Products Featured in This Article