January 18, 2023
Height Module Speaker Buying Guide
Article written by POLK STAFF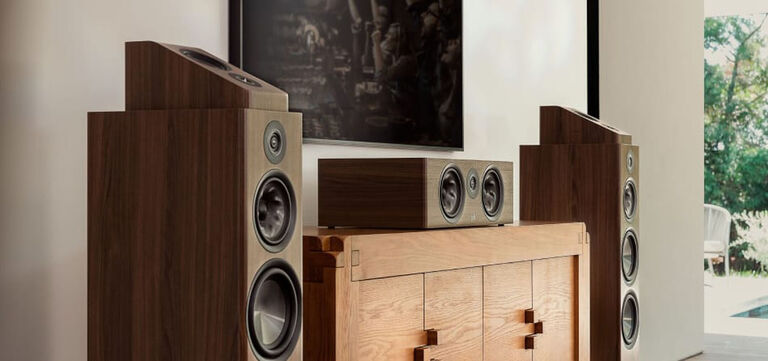 HEIGHT MODULE SPEAKER BUYING GUIDE
Everything you need to know.
What is a height module speaker?
A height module speaker (also called a height module or height speaker) is meant to deliver the overhead component of immersive surround sound formats such as Dolby Atmos and DTS:X without the hassle of installing ceiling speakers. Instead, height modules fire sound toward the ceiling, where it reflects down to the listener to create a truly three-dimensional sound field that brings you into the center of the action.
Do I need a height module speaker for Dolby Atmos?
Dolby Atmos is an "object-based" audio format that lets creators precisely place sounds virtually anywhere in a three-dimensional space—including overhead—to present a fully enveloping listening experience. Many sound bars and surround systems do a convincing job recreating that 360-degree soundfield with digital processing. But to experience true Dolby Atmos, you need dedicated speakers producing overhead sound. Both ceiling speakers and height modules do the job, but room size, ceiling height and angle, and speaker placement constraints can impact the effectiveness of each setup, so do some research with your room in mind before making a decision.
How to choose a height module speaker?
When it comes to choosing a height module speaker, the best options are models that are designed to complement specific speakers. Installation couldn't be easier: Simply connect a couple of cables and you're in business. Some height modules, like the Polk Legend L900, fit right inside the tops of companion speakers for the ultimate in seamless sound and style.
What is the best height module speaker?
The best height module speaker is one that works in your space, complements your main speakers, and delivers clear, detailed sound for lifelike overhead effects.
Why buy a Polk height module speaker?
We've been at this since 1972 and we're constantly pushing the boundaries of audio technology to deliver the best speakers at the best price. We offer height module speakers that work seamlessly with select bookshelf and floor-standing speakers so you don't have to wonder whether your speakers will play nicely together.