January 18, 2023
Floor Standing Speaker Buying Guide
Article written by POLK STAFF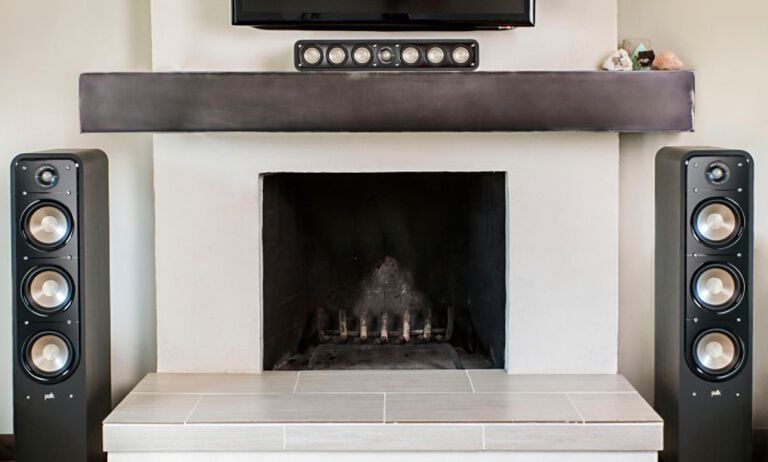 FLOOR-STANDING SPEAKER BUYING GUIDE
Everything you need to know.
What is a floor-standing speaker?
A floor-standing, or tower, speaker is just that—a speaker that stands on the floor. Because floor-standing speakers are so big, they house large drivers and multi-driver arrays that are capable of filling the room with powerful, full-range sound and the deep bass sought after by music lovers and movie buffs.
Floor-standing speakers can be used in stereo pairs or multichannel systems; because they're oriented at ear height and pair well with other speakers, they also make great surround speakers. These tower speakers are big, for sure, but slim floor-standing speakers are available, and the best models are housed in designer-quality cabinets that'll make a statement in your space.
Bottom line: If you have the space and place a premium on superior sound quality, you'll want a pair of floor-standing speakers.
Do you need a subwoofer with floor-standing speakers?
You need big drivers to produce big bass sound waves. Thanks to their large size, floor-standing speakers tend to produce deeper bass frequencies than smaller bookshelf speakers. Some floor-standing Polk speakers, including select Legend, Reserve, and Signature Elite models, incorporate our exclusive Power Port technology, which eliminates turbulence and distortion for louder, deeper, more musical bass and a more open and transparent midrange.
You don't need a subwoofer with all tower speakers, but you might want one if you seek more powerful, visceral bass that you can feel. Whether you're jamming to bass-heavy EDM and hip hop tracks or you just want more cinematic rumble in your movie and game experiences, extending your system's low-end energy with a subwoofer (or two) will bring that thunder you crave.
What is the difference between powered and passive floor-standing speakers?
The difference between powered and passive floor-standing speakers comes down to amplification. Powered, or active, floor-standing speakers have built-in amplification, while passive floor-standing speakers, such as Polk models, need to be powered by an external amplifier, which can take the form of an AV receiver or dedicated power amp.
With powered floor-standing speakers, you don't have to worry about matching your speakers to the right amp or adding more gear and cables to your setup. Audiophiles tend to gravitate toward passive models, however, because they allow designs that sound better than equivalently priced powered speakers, and they give you more flexibility to mix and match components in the pursuit of your ideal sonic profile.
How to choose a floor-standing speaker?
When it comes to choosing a floor-standing, or tower, speaker, your budget and space are your priorities. Then, consider your preferences: Are you looking for detailed, high-resolution sound or room-shaking bass, or both? Do you want a stereo system or a multichannel surround setup?
By design, the bigger the speaker, the more powerful the sound and the deeper the bass. You want speakers that are powerful enough to effortlessly reproduce the most dynamic music, movie, and game content. But, more isn't always better: If your speakers are too powerful for the size of your room, they can't run at optimal levels and can end up sounding boomy.
Specs don't tell the whole story, but they provide a great starting point. Frequency response will tell you how wide a speaker's range is; and sensitivity will give you an idea of how efficient a speaker is (meaning how loud it can get at a given power level), for example. Speakers with the same specs can sound surprisingly different, so audition systems in person whenever possible. At Polk, we make this process a little easier with free shipping and 60-day returns so you can try any system risk-free.
What are the best floor-standing speakers?
As is the case with all audio equipment, you get what you pay for. If you seek the cream-of-the-crop floor-standing tower speakers, go with Polk Legend L800s. These speakers offer an unparalleled sonic experience with an incredibly spacious soundstage, thanks to our exclusive SDA (Stereo Dimensional Array) technology, which features a second driver array engineered to eliminate intra-aural crosstalk for an incredibly wide, defined sound stage. On the other hand, if you're looking for amazing clarity and dynamic range but you're just getting started in the hi-fi game, we'd recommend something like our Monitor XT60 floor-standing speakers. These speakers deliver a great listening experience at an incredible value.
How much should I spend on floor-standing speakers?
With models ranging from a couple hundred dollars to a couple hundred thousand (!) dollars, figuring out how much you should spend on floor-standing speakers can be challenging. As a rule, high-end floor-standing speakers tend to sound better than inexpensive models because they take advantage of advanced technologies and premium materials to deliver highly accurate, detailed sound. Paying a higher price doesn't guarantee better sound quality, but the cheapest speakers tend to be the smallest, which means you'll sacrifice bass and definition.
Why buy a Polk floor-standing speaker?
We've been obsessing over making great speakers at amazing prices since 1972, and we haven't lost an ounce of that passion we started with. We're famous for pioneering some pretty amazing acoustic innovations over the past 50 years. Our SDA technology, for example—available in our flagship Legend 800 floor-standing speakers—maintains full stereo separation all the way from the source to your ears to produce the most lifelike, detailed stereo imaging you have ever heard.