July 03, 2018
With 3d Audio Surround Sound, You've Got Options
Article written by POLK STAFF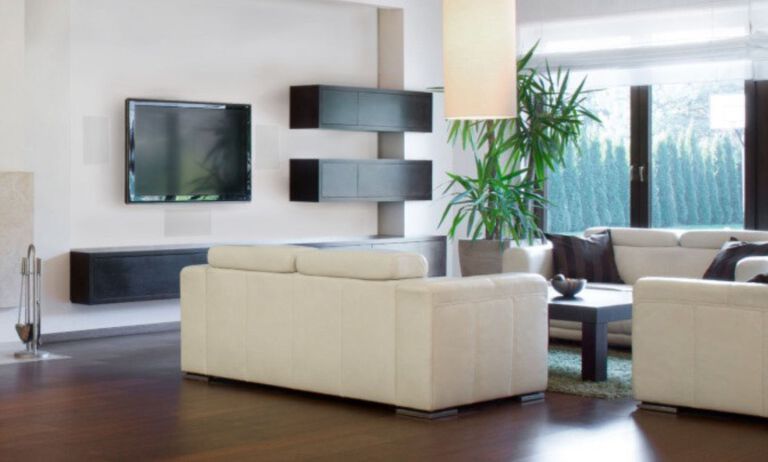 Anyone interested in creating a truly cinematic experience in their own home theater has no doubt considered revamping their setup to take advantage of the latest 3D audio technology. However, they may get tripped up when deciding between equipment that supports certain formats like Auro-3D and Dolby Atmos. How do you get the best bang for your buck while preparing your home theater to support whatever format becomes standard down the road? Don't worry, with 3D audio, you've got options.
Go the custom install route
If you want to enjoy cutting-edge, high-performance audio without cluttering your home theater with a bunch of bulky equipment and cables, consider installing in-wall and in-ceiling speakers. Custom installation options from Polk allow film fans to build out the perfect home theater setup that's never seen but always heard.
Polk Vanishing RT speakers like the 625-RT feature a 7mm magnetically secured grille, making them virtually indistinguishable from the surrounding decor. Each speaker is timbre-matched to guarantee a seamless soundscape, regardless of whether your setup incorporates wall-mounted units or traditional standing speakers. And with the patented Rotating Cam system, you can eliminate any vibrations that might emit from your in-wall speakers.
Want to take advantage of the latest 3D audio formats? Polk supports Dolby Atmos, DTS:X, DTS Virtual: X and Auro-3D to keep your options open. In-ceiling and in-wall units provide complete surround sound along with a distinct height channel that puts the 3D in 3D audio.
It's the perfect solution for film fanatics who want the highest-quality audio possible without impacting the layout of their viewing area.
Take a traditional, component-based approach
Of course, custom installation isn't viable for everyone. Whether it's out of your budget, too labor-intensive or your ceiling isn't the correct height for a speaker install, there are plenty of good reasons to prefer a more traditional home theater setup.
A component system can provide a similarly high-quality home theater experience without the extra considerations that a custom installation requires. With the right setup, you can achieve many of the immersive nuances that characterize 3D audio.
Component speakers from the Polk Signature Elite Series, such as a the floor-standing ES60 speakers, support DTS Virtual:X, bringing cinematic-quality audio into your home. Its Dynamic Balance acoustic array ensures the best performance possible by providing a clean, full-range sound, regardless of what you're watching or listening to.
Bookshelf speakers like the Polk ES20 build out a more expansive home theater soundscape while seamlessly slipping into their surroundings. They may not be invisible, but their timeless design blends seamlessly with any décor.
Be sure to tie these high-performance component speakers together with an equally powerful AV receiver that supports DTS Virtual:X and other 3D audio formats. This way, you'll be ready to go whenever you decide to further expand the audio capabilities of your home theater.
There's no reason to feel tied down to one format or another. With the extensive lineup of high-quality home theater speakers from Polk, you can take advantage of any 3D audio format you like.
Products Featured in This Article