August 09, 2018
How to Get the Best Movie Night With Your Polk React Sound Bar
Article written by POLK STAFF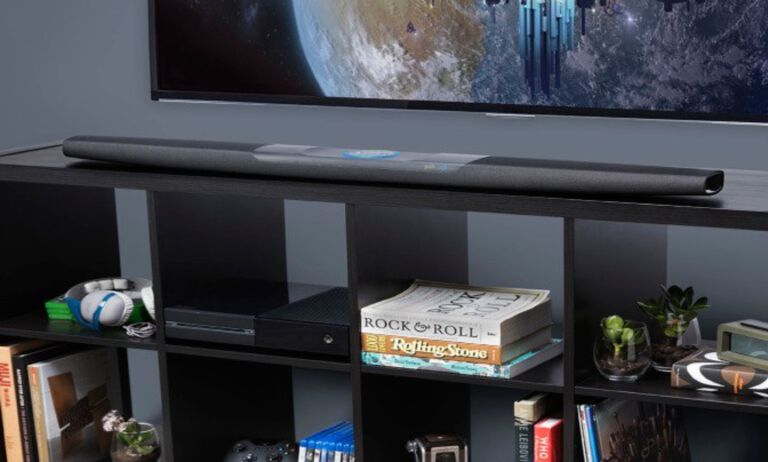 Going to the theater is great — but at Polk, we love a good movie night at home. No lines, no expensive popcorn and you're always guaranteed the best seat in the house. Legendary Polk sound helped make the home movie experience one that's worth skipping the trip to the theater — and now, you get to pair powerful bass and immersive audio with Alexa voice control for an all new, totally connected home theater experience. Here are 10 ways to take your binge marathon to the next level with the Polk React Sound Bar with Alexa built-in.
Dim the lights
Have Alexa and your Polk React Sound Bar set the stage for the big event. Ask Alexa to dim your smart lights, (like Phillips, for example). Or, if you're watching Insidious and find that the ominous score is getting a little too real when combined with Polk's advanced sound technology, you can ask Alexa to turn the lights back on.
Blast the volume (or make things quieter)
The Godfather's Don Vito Corleone classic one liners are even more menacing at full volume, so ask Alexa to turn it up. But, if the gunshots and sucker punches are so loud they may wake the kids, you can ask Alexa to turn the volume back down.
Bump up the bass as you see fit
Do you love a full-throttle action scene? Wait till you hear one on the Polk React Sound Bar. The wireless subwoofer will deliver gut-busting bass that you can ask Alexa turn up or down to suit your style. Try watching Mad Max: Fury Road at full bass impact and really feel those desert chase scenes rumble through you.
Binge with intention
Ask Alexa to show you titles with your favorite actor or actress, genre and more, so you can binge watch all the content you want without ever getting up. Say, "Alexa, show me titles with Molly Ringwald," or "Alexa, show me 80s movies." From there, all you have left to do is settle in for your favorite shows and movies.
Settle a bet
Are you positive that the lead actress of Orphan Black is Tatiana Maslany, but your binge-watching-partner is convinced that its actually Alia Shawcat? Prove them wrong. Just say, "Alexa, who is the lead actress in Orphan Black." Alexa will provide the answer and settle the argument, definitively. (You were right, by the way. It is Tatiana Maslany.)
Order a pizza
Hungry? Ask Alexa to order you a pizza after you download the skill. If you're in the mood for something else, you can summon any of the meals you've ordered through popular delivery services, or have Amazon make suggestions for you based on your recent restaurant orders. Whatever you feel like eating, the goal is to keep you from schlepping around the kitchen when a Guardians of the Galaxy marathon is about to happen in the living room.
Fine — make a pizza
If you insist on DIYing dinner and a movie, ask Alexa for a great pizza recipe. The Recipedia skill can cue up 100's of recipes for you to experiment with. Some Alexa-compatible appliances will event preheat at your request. You can ask Alexa to set a timer for your dinner, so that you don't needlessly jaunt to and from the oven to check on your pizza. Stay seated - Polk and Alexa have got it covered.
Pair wine with your food
Have Alexa and the MySomm skill pick a wine for you. With hundreds of recommendations available, she can give you input on what wine goes with flank steak, goat cheese or even your pizza. To activate the MySomm skill, say "Alexa, ask Wine Gal to recommend a wine for pepperoni pizza."
Set an alarm for tomorrow morning
Once the movie's finished, prep for tomorrow by asking Alexa to set an alarm for you. You can ask to be woken up to your favorite song, artist or station. No additional skill required - the Polk React Sound Bar with Alexa built-in can do this out of the box. Just say, "Alexa, wake me up to Adele at 8 am."
Go on, get out of here!
If the movie ends and you decide you haven't had enough entertainment for one night, you can ask Alexa to order an Uber for you. Download the skill and simply tell Alexa to ask the app to request a ride.
The Polk React Sound Bar with Alexa built-in redefines home theater and connects you to your smart home and favorite apps. Use your voice as the remote, and upgrade your living room with the next generation of home theater.
Products Featured in This Article