November 01, 2017
Is it Time to Get a New Wireless Sound Bar?
Article written by POLK STAFF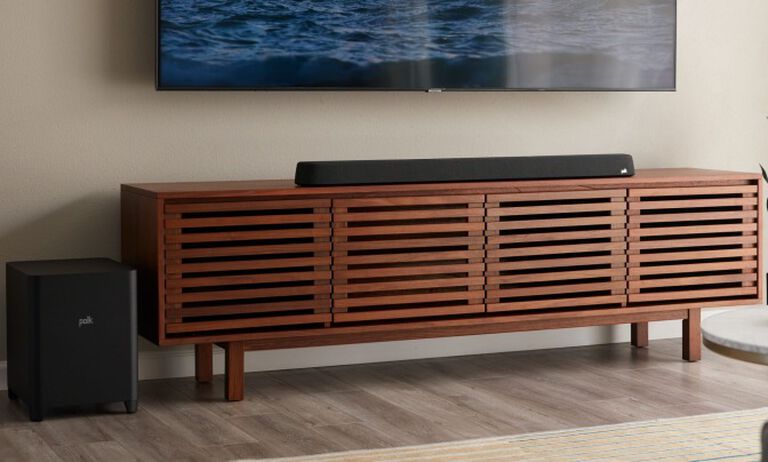 Whether you love binging on TV shows, screening the latest films or cheering for your favorite team, a wireless sound bar offers a simple, compact means of immersing yourself in entertainment. Continuous technological advancements have made it possible to achieve impressive sonic results from a single, slimpiece of equipment. Take these innovations into account if you're considering purchasing a new sound bar.
Why a wireless sound bar?
Over the years, televisions have become sleeker and slimmer as picture quality has reached new heights of realism. To achieve powerful sound that matches the high-definition look of today's home entertainment, an AV receiver and external speakers are typically needed. While a full-scale surround-sound setup is often ideal for appreciating every nuance of music or thunderous deep bass, you may not have the space for positioning several speakers around a particular room.
A sound bar provides a simple solution to this by incorporating multiple speakers into a package that can be easily positioned aboveor below a television Sound bars come with built-in amplifiers, allowing you to keep your arrangement minimal. HDMI or Optical outputs make it easy to connect the speaker to your television and start enjoying better audio immediately. Plus, Wi-Fi or Bluetooth sound bar connectivity makes it simple to stream tunes from your computer or mobile device, turning your audio system into a versatile center for wireless entertainment.
What sets a great TV sound bar apart?
Conserving space is important, but a well-constructed sound bar is best known for its rich, deep audio. There are a number of features that can significantly impact your entertainment experience.
If you like having a compact system but are ready for the full-bodied audio of a true home theater, look for a sound bar with a subwoofer. This pairing brings out the resonant bass that you'd expect from surround sound, but with easier setup and far fewer components. Polk-patented Stereo Dimensional Array technology provides exceptionally neutral and immersive playback and is featured in the Polk MagniFi MAX SR, which is able to reproduce the effect of a full 5.1 speaker system by adding a pair of wireless speakers to the mix. Advanced sound bars feature technology like an isolated voice channel that highlights dialogue so that you never miss a crucial line, or EQ presets dialed in to provide the best quality for movies, sports, music or news.
Sound bars simplify quality home audio by compiling the dimensional sound of many speakers into just one bar. Trade in your current setup for the advanced technology and remarkable quality available in Polk's soundbar line.