November 08, 2017
Is It Time to Trade in Your Sound Bar for Surround Speakers?
Article written by POLK STAFF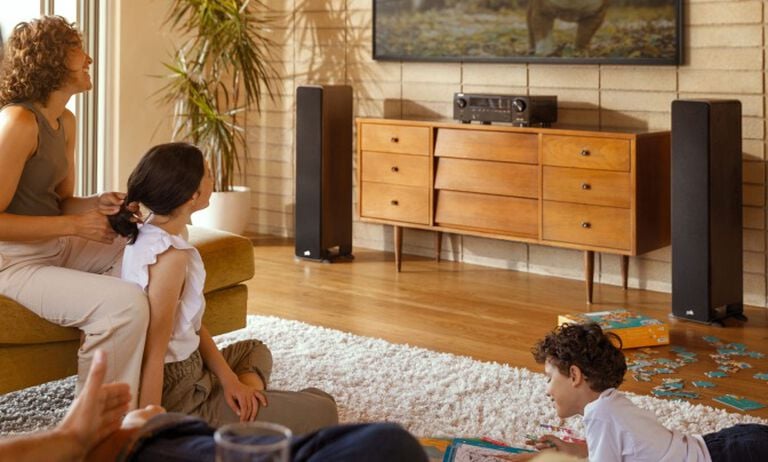 A quality sound bar can be a great choice for your home audio setup, especially if you have limited space. You can easily enhance the audio experience of your favorite entertainment by placing one above or below your television. However, if you're relocating to a larger space or just itching for a more immersive sound, it might be time to upgrade to a full surround sound system.
Why choose surround sound speakers over a sound bar?
There are many advantages to a surround sound home audio system that make it the ideal choice for a serious audiophile or home theater enthusiast. A powerful system plunges the listener into a remarkably detailed audio environment with plenty of room for customization. With the right AV receiver and speakers, you can achieve playback that fills your listening area with rich, deep sound.
When you're putting together a surround sound system, you have the freedom to select the number and types of speakers that best suit your listening environment and preferences. Look for speakers designed with clear sound reproduction as the priority and minimal harmonic distortion. Matching up speakers with complementary timbres will result in optimal blending across multiple channels.
While some opt for maximizing coverage in their listening area with seven speakers and a pair of subwoofers, you can also conserve space with five speakers and a single subwoofer. However many speakers you end up with, you'll have the opportunity to experiment with situating them in different spots around the room to achieve the best possible acoustics.
Why choose a sound bar over surround sound speakers?
If you're not quite ready to embrace the benefits of a complete surround sound system, you can step up with a more high-performance sound bar. With a few additional components, a sound bar can bring you a top-notch audio experience in a much smaller package.
One option is to simply add a subwoofer if one didn't already come with your sound bar. The subwoofer provides powerful bass frequencies that often isn't possible from a sound bar alone.
If you want to simulate a 5.1 home theater, however, you will need a surround sound bar system. These systems often come with a pair of wireless rear speakers. And adding them to the mix lets you fully immerse yourself in all aspects of home theater. There are even some wireless speaker options out there that let you easily stream music, then wirelessly connect them to a sound bar when you're ready to watch movies and TV. Either way you decide to go, Polk has the speakers you need to tailor a home audio solution that fits your space and fills it with great sound. Choose between sound bars that pack remarkable power in their compact forms, or build the ultimate home theater system with your choice of surround speakers and subwoofers.