November 15, 2017
Making Architectural Speakers a Part of Your Home
Article written by POLK STAFF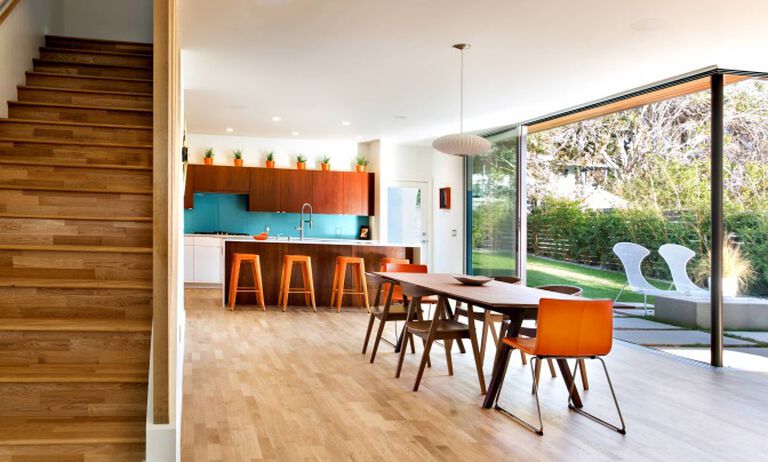 Home entertainment systems should be assembled to suit your personal tastes and lifestyle. One of the best ways to incorporate amazing sound into your life is by installing architectural speakers. With quality, low-profile equipment placed in the right spots, you can create an exceptionally stylish area for enjoying films or to fill your entire home with music.
Why should you use architectural speakers for your home theater?
If you have limited floor space for your home theater or you just like the idea of making your sound system a seamless part of the living room decor, architectural speakers are an excellent idea. Show off a clean, elegant style by designing a room where you can barely see the speakers installed in the ceiling or walls. Complete the look by placing your TV in a cabinet so it can be concealed when not in use, hiding any unsightly wires.
Keep in mind that speaker placement is essential to creating an immersive surround sound experience. Position the front in-wall speakers so they are at ear-level when viewers are seated, and away from the television. Place the surround speakers about the same distance apart from each other as the front speakers. Install in-ceiling speakers to capture the full impact of 3D audio special effects.
What are the best architectural speakers?
Architectural speakers are a versatile and unobtrusive means for sharing music throughout the house. By creating a multi-room audio system, you can enjoy your favorite songs wherever you are. Send music from a single source into all areas or create multiple zones so others can enjoy their own entertainment.
The speakers in Polk's Vanishing LS series are ideal for creating a multi-room setup that delivers beautiful audio while fitting into your home's aesthetic. The ultra-thin, magnetically sealed Sheer-Grille only stands out from its surroundings by 7 millimeters. With a coat of paint to match your walls, you can hardly perceive the three-way speaker as it pumps out powerful, dynamic sound.
Polk makes the best loudspeakers that you'll never see, with a wide array of options to meet the exacting demands of audiophiles without compromising the appearance of your home. Check out our wide selection of nearly invisible architectural speakers to get consistently great sound wherever you want it.