November 02, 2018
'Red' Campbell on Car Culture and the Role of Polk Speakers
Article written by POLK STAFF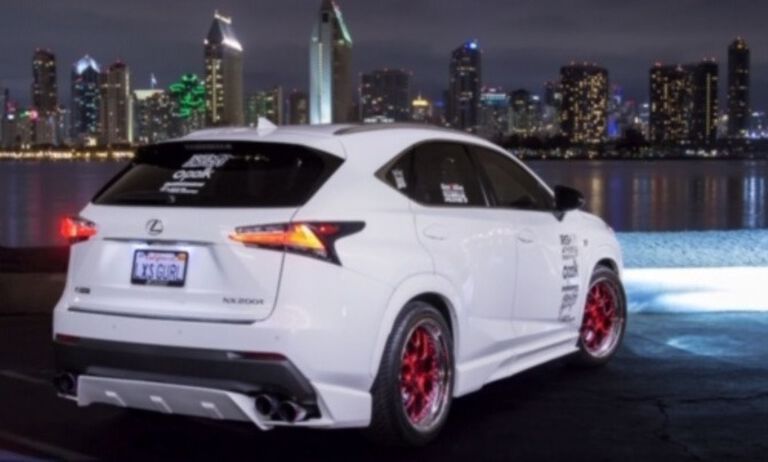 Laurisa Campbell's journey into the world of car shows began in 2014. Somewhat unexpectedly, Campbell (who usually goes by "Red") found a community in which she immediately felt comfortable. "I went to a car show that was next to my house [to find new wheels for my Lexus], and discovered just how much people modified their cars," she explained. This led her to the car enthusiast network in Southern California, and from there to a realization and participation in nationwide and global car culture.
Laurisa "Red" Campbell is a natural car ambassador
Red had an immediate knack for modification and presentation, winning a trophy the first time she entered a show in December 2014, without having made substantial changes to the vehicle. "From [then] to today I've been an active female competitor in the SoCal community," Campbell said. Yet that's hardly the extent of her resume. She's co-creator of the "Lexus Nights" brand at Lexus Carlsbad (which occur two to three times annually) and hosts other shows of her own that are open to all makes and models. More often than not, her referrals of customers to Lexus Carlsbad result in closed sales. Not only that, Lexus has nationally showcased her builds on social media and in one of its prominent 2015 brochures. Despite her acclaim, she finds great joy in mentoring other show competitors and car lovers on their builds, more so than the number of trophies on her shelf.
Using Polk car speakers to stand out
Red decided she wanted her current build — the most modified Lexus 2016 NX 200t F Sport on the SoCal car-show scene — to wow spectators and judges in every possible way. She knew sound would play a major role. Using Polk Audio speakers from the MM1 Series, Polk technicians reworked Red's sound system to create audio worthy of her unique ride. "It's not just the design, it's the quality of sound," Red said of the setup. "It's something I can show off everywhere I go." She stresses the importance of enjoying music on her own in the car — to "create soundtracks for seasons of my life" — as much as when presenting. Trunk-rattling bass may be great for a show, but it's not always optimal for a casual drive around town. Red also noted how the Polk system stood out for its traditional design as opposed to more elaborate, but poorer-sounding car audio.
Red's advice for prospective show competitors
"The rule of thumb is, be unique and change something about your car every year," Red explained. "Keep your build fresh and be open to constructive feedback." Beyond aesthetics, Red highlighted the importance of savvy networking abilities and a good attitude for those seeking success on the car-show circuit, and noted that lacking them can hurt a competitor's chances. "You can have 30,000 social media followers, but if you're a jerk, no one will want to work with you. If you're positive, encouraging and social, you'll gain the admiration of other car aficionados."
She also acknowledged how women in this field typically have to work harder. Grateful as she is for her personal success, she hopes to see more women placing first and second, instead of third or being limited to awards like "Best Female." This motivates her to spend as much time as possible mentoring other competitors. As for Red's most recent endeavors, she just participated in this year's SEMA auto show in Las Vegas, where her Polk-enhanced build attracted plenty of attention from thousands of buyers, enthusiasts and media.
"Thanks to Polk Audio and all of my sponsors for believing in me and this build," Red said, "and thanks to Team Impact for their support, as well as friends and family. My circle of awesomeness is truly incredible."
Follow Red on the road at @kaliboricua on Instagram.