March 24, 2023
Supreme Sound, Rain or Shine: Choosing All-weather Speakers for Your Outdoor Spaces
Article written by SARAH JONES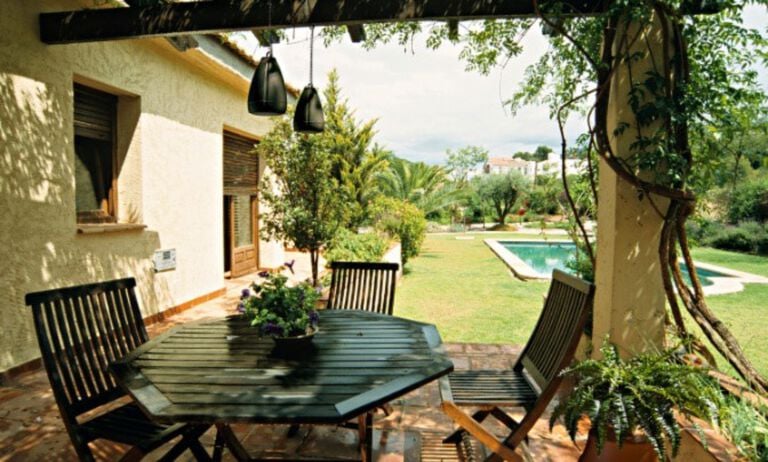 Polk's outdoor speakers, such as the Atrium Sat300 above, feature many of the same acoustic innovations as our indoor speakers, in discreet, all-weather designs.
Those persistent piles of late-season snow may be lingering on the patio, but here at Polk, summer is in our sights and we're already thinking about ways to give our outdoor spaces a major glow-up this year.
When it comes to outdoor entertainment, a great sound system is essential. There's nothing quite like lounging outside on a sunny day, belting out your favorite summer jams while flipping dogs on the grill. And it just gets better when you can extend the party after hours with a little outdoor movie magic on a balmy evening.
Enjoying music and movies outside may be one of life's great pleasures, but not all speakers are up to the task. Here, all-weather speakers are a must: They're engineered to withstand harsh weather conditions like rain, snow, and blazing sunshine, and repel dirt, dust, debris, and even the occasional hose-down. And, done right, they offer fidelity on par with traditional speakers, allowing you to enjoy hearing your favorite music and movies outside just as much as you do indoors. Here are a few tips for choosing the best speaker system for your outdoor entertainment needs.
Survey your space. When it comes to design, choose speakers that fit your personal taste and outdoor décor. All-weather speakers come in a range of shapes, sizes, and designs, and some are designed to be discreet or hidden, while others prioritize big sound and have bigger footprints. Some all-weather speakers can be mounted on walls or ceilings (be sure they come with mounting hardware) while others are designed to be freestanding. Polk outdoor speakers don't require an outdoor AC power source, but they do need an audio signal, so you will need to consider your plan for running audio cables from your amplifier or receiver to the speakers.
Durability is critical. All-weather speakers should be made from tough, weather-resistant materials. Look for speakers with IP weather ratings that certify that they can withstand splashing water from any direction. Polk speakers are built with materials like stainless steel that withstand the elements and are IP-rated for protection against water and dirt, so you can count on peak performance for years to come.
Don't compromise on sound quality. It doesn't matter how rugged your speaker is if it sounds thin or tinny. Look for speakers with a wide frequency range, high power output, and high sensitivity, for powerful, crisp audio even in noisy outdoor environments. Polk's all-weather speakers feature many of the same acoustic innovations as our indoor speakers but are engineered for all-weather reliability.
Pay attention to speaker driver size. Smaller drivers, in the 3- to 5-inch range, can fit inside compact enclosures for discreet coverage. For example, the versatile, full-range Polk Atrium Sat300 can be hung from the ceiling, mimicking a light fixture; wall mounted; or even planted in landscaping. It's perfect as a satellite surround or for low-profile coverage anywhere you want consistently great sound.
Speakers with larger-diameter drivers, typically in the 5- to 6.5-inch range, generally provide more powerful sound with superior bass response. Polk's Atrium 8 SDI flagship outdoor speaker features a 6.5-inch woofer, dual 1-inch tweeters, and patented Power Port technology for rich, full-range sound with crisp, detailed highs.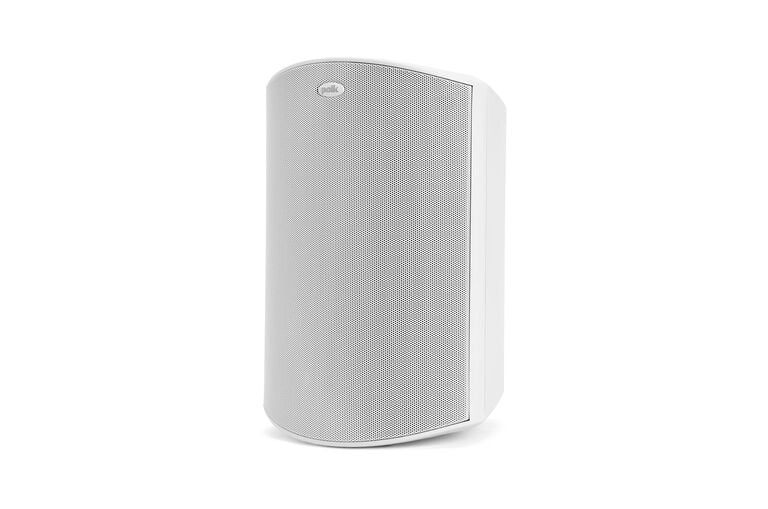 The Polk Atrium 8 SDI loudspeaker features a woofer and two tweeters for powerful, detailed outdoor sound.
Whatever style full-range speakers you choose, extending your system's low-end performance with an outdoor subwoofer will bring that deep-bass punch you can feel. Polk's Atrium Sub100 subwoofer delivers indoors-level bass impact, thanks to its 10-inch, long-throw Dynamic Balance woofer with dual voice coils. Everything's housed in a molded, acoustically sealed resin enclosure that's marine-certified with an IPX68 rating, for guaranteed weather-proof outdoor performance. Bonus: This curvy speaker can double as a side table or plant stand and can be painted to match any space.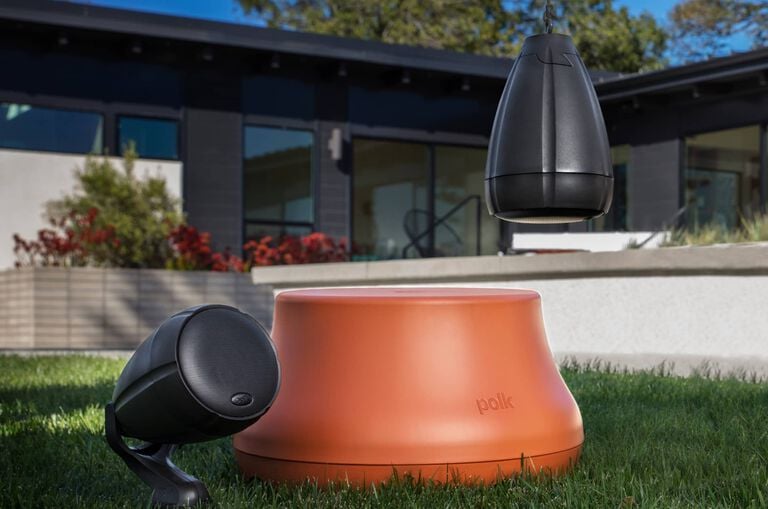 Polk's Atrium Sat300 compact loudspeaker and Sub100 subwoofer are rated for protection against dirt and water.
Aim carefully. The placement of your outdoor speaker system has a significant impact on overall sound quality. Consider the size and boundaries of your outdoor space; larger spaces may require larger speakers or multiple speakers placed strategically throughout the area. If you have trees, buildings, or other sonic obstacles in your yard, you may need to consider speakers that can be mounted or placed on different surfaces.
Choosing the best speaker system for outdoor entertainment starts with carefully considering durability, sound quality, connectivity options, size and placement, and budget. By making wise choices now, you'll be well on your way to creating the ultimate outdoor entertainment space—one that you'll enjoy for years to come.
Explore Polk All-Weather Speakers