January 18, 2023
Sound Bar Buying Guide
Article written by POLK STAFF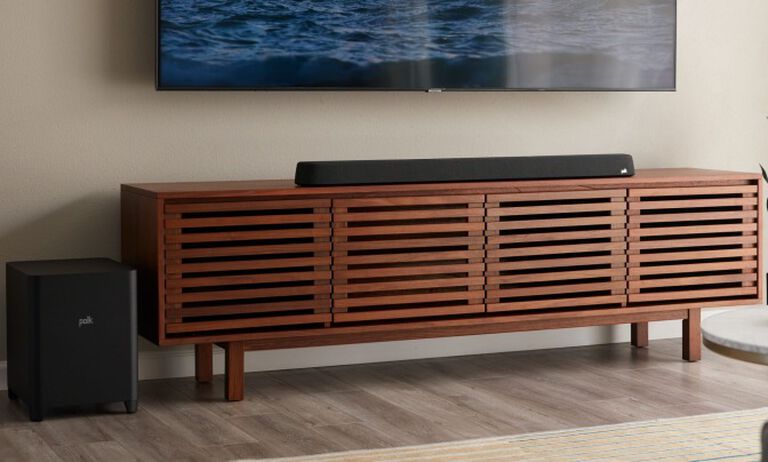 SOUND BAR BUYING GUIDE
Everything you need to know.
What is a sound bar?
A sound bar, or soundbar, is a low-profile, all-in-one speaker system that's designed to present stereo or surround sound in a small space. A sound bar is typically paired with a TV to provide a sonic experience that's far superior to the weak sound produced by a TV's tiny built-in speakers—but sound bars can also stream music (including Hi-Res Audio) and connect to devices such as Blu-Ray players and gaming consoles. Most of the time, a sound bar simply sits below your TV on an entertainment center, but sound bars can also be mounted on the wall below (or sometimes above) a TV.
Sound bars contain anywhere from two to seven or more speakers, and often incorporate drivers that angle outward from the sides or upward toward the ceiling to produce more immersive, room-filling sound, like Dolby Atmos and DTS:X content.
How to choose a sound bar?
Choosing a sound bar is easier than you think. Start by determining the best size, something that is smaller than or the same width as your TV and fits on furniture below your TV or on the wall. (Remember that sound bar size does not necessarily equate to power and immersiveness; our smallest sound bar, the MagniFi Mini AX, delivers immersive Dolby Atmos and DTS:X sound in an ultra-compact system measuring just 14.6 inches wide.) Then, think about the sonic experience you want. All sound bars have multiple speakers but channel configurations can vary, from 2-channel stereo sound bars to sound bars with center channels that emphasize dialogue to Dolby Atmos soundbars that combine eleven or more speakers to produce truly immersive Atmos or DTS:X sound.
Consider whether you prefer a minimalist sound bar-only setup or an expanded system that includes a subwoofer and surrounds for more immersive sound with deeper bass. Then, look at feature sets: Many sound bars provide virtual surround, bass-boost, and speech-clarifying effects such as Polk's Voice Adjust technology; Bluetooth or wi-fi streaming; and voice assistant integration.
What is the best sound bar for Dolby Atmos?
The best sound bar for Dolby Atmos includes up-firing speakers, which fire sound at the ceiling where it reflects back toward the listener to provide the "height" element of the immersive Atmos experience. Our flagship MagniFi Max AX SR 7.1.2 Atmos sound bar system includes dedicated up-firing drivers plus an included sub and surrounds; the system features Polk's SDA technology for extra-expansive sound, and decodes DTS-X. The Signa S4 sound bar, has a seven-speaker array with up-firing height speakers, and includes a subwoofer If you don't have the space or budget for a full-blown Atmos system, sound bars like our MagniFi Mini AX are incredibly effective at creating a virtual Atmos experience using digital processing.
Why buy a Polk sound bar?
At Polk, we believe that everybody deserves great sound, and we've followed that mission since 1972. That's why we design every sound bar to offer the ultimate combination of fidelity and value. Our sound bars bring acoustic technologies found in our flagship speakers to a compact scale, whether your preferences lean toward our ultra-compact 14.5-inch MagniFi Mini AX soundbar with wireless subwoofer or our fully-loaded React Surround System with wireless surrounds and subwoofer and Alexa Built-In.
Is a sound bar worth it?
Is a sound bar worth it? We think so! A sound bar is a simple, affordable way to dramatically improve your TV sound and truly take your home theater to the next level, whether you're seeking a cinematic immersive experience or just want to hear every word of dialogue in your favorite programming. Ultimately, there's no better way to fill your room with sound without filling your room with speakers.