March 20, 2018
Center Channel Speakers Take Center Stage
Article written by POLK STAFF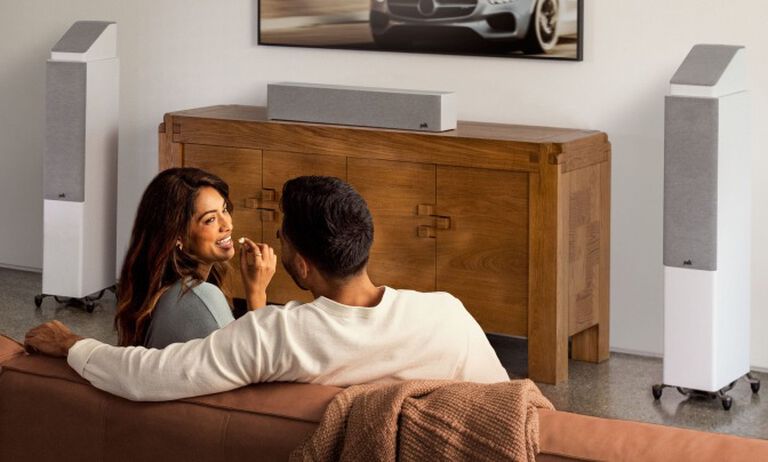 Every component in a surround system plays a role to deliver powerful, immersive entertainment. From the rumbling of your subwoofers to the high frequency range of the tweeters, each speaker contributes to the creation of an effective soundstage for movies and music. To achieve consistently great audio in your home theater, select a high-quality, versatile center channel speaker.
Why does your center channel speaker matter?
When considering what makes an excellent surround sound setup, there's a tendency to concentrate on the speakers situated on either side of the room. Your surrounds are tasked with the impressive spatial effects that plunge you into the heart of your entertainment. However, the center channel is essential, pulling your experience together by producing midrange sounds.
Dialogue and primary vocals are produced by the center channel. This sets surround sound apart from stereo systems, which have no dedicated center channel and instead disperse sound between the left and right channels. Having that center speaker in place ensures that dialogue comes through clearly, even when the music swells and sound effects occur in the background.
What is the best center channel speaker?
There are many center channel speakers available, but consider options with exceptional engineering and features for the best results. There are two common designs for center channels: one positions midrange drivers on either side of a tweeter, while the other has woofers surrounding a tweeter and midrange driver. The latter design can convey sonic nuances across a wider soundstage as long as the dynamics are properly balanced.
Look for a center channel with a similar timbre as your left and right channel speakers. Your surround system is at its best if the center speaker has the same frequency response as the right and left channels. That's why it's generally a good idea to purchase speakers that come from the same series, such as the Polk Reserve series. The Reservice R300, R350 and R400 center channel speakers bring a broad, vibrant soundstage thanks to Turbine Cone woofers that deliver a significant increase in cone rigidity without increasing mass as well as Pinnacle Ring Radiator tweeters which feature a distinctive pointed shape that guides the dispersion of high frequency sounds around a room.
To find the center channel speaker that perfectly ties together your home theater system, take a look at the complete selection from Polk Audio.
Products Featured in This Article