November 29, 2022
The Ultimate Guide to Dolby Atmos, Part 3: Sample Systems
Article written by SARAH JONES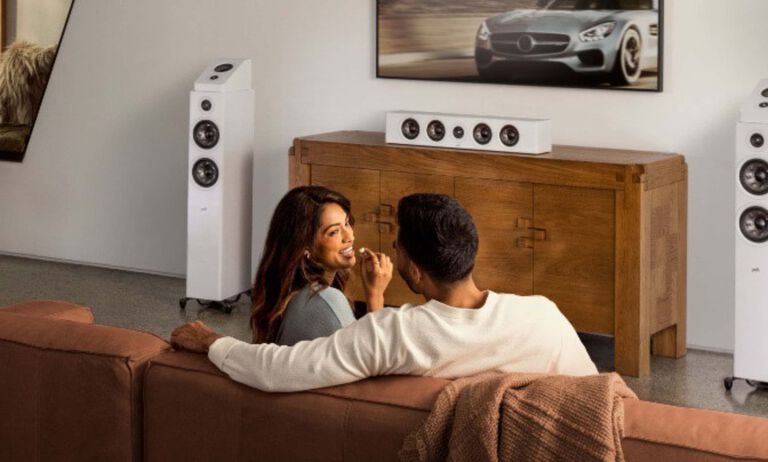 We're Atmos-obsessed here at Polk, offering systems in every category and price range. But with so many choices, how do you decide what's best for you? In this third installment of our four-part Dolby Atmos series, we'll show you some our favorite Atmos systems, from ultra-compact sound bars to top-of-the-line component systems.
(New to the series? Start with our first installment, where we explain the difference between Dolby Atmos and traditional surround sound, and outline everything you need to enjoy immersive Atmos sound at home.)
Sample System Configurations
Many speakers will work for Dolby Atmos; with the exception of height modules, it's really less about which models you use and more about how you configure them for the optimum immersive experience in your space. If you're in a large room, for example, floor-standing speakers will deliver the most powerful sound; smaller rooms are often best served with bookshelf or sound bar systems.
The more speakers in your Atmos system, the truer the sonic experience. For the most realistic immersive sound, Dolby recommends a minimum 5.1.2 setup, but you can opt for something as minimalist as an Atmos-enabled sound bar (which conveniently contain multiple channels of speakers within their enclosure.) Atmos can support up to a maximum of 34 speaker positions, but 5.1.2 and 7.1.4 systems are typical.
A couple of important notes: With the exception of the subwoofer, center channel and center surround speakers, all speakers in an Atmos system must be added in pairs.
Let's look at a few Polk Dolby Atmos system configurations.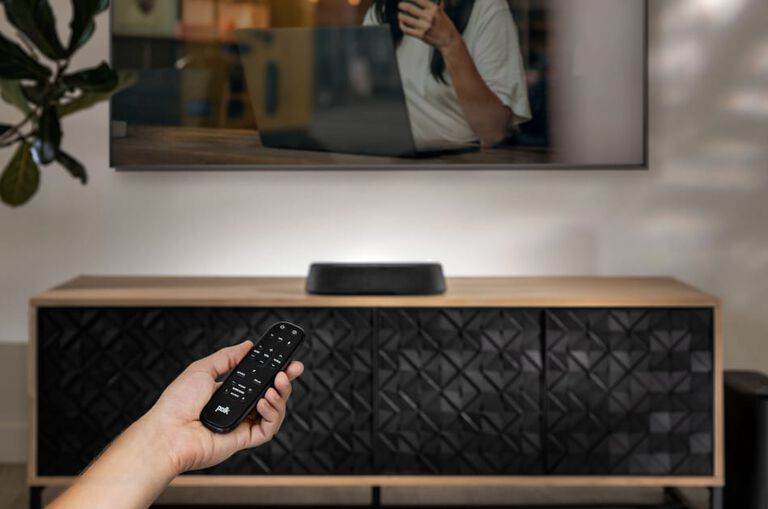 Ultra-Compact Small-Space Atmos:
Polk Magnifi Mini Ax With Wireless Subwoofer
For room-filling Atmos sound in even the smallest spaces, supercharge your TV setup—and wirelessly stream your favorite tunes—with MagniFi Mini AX, our most compact sound bar. This small-but-mighty system measures just 15 inches wide, yet delivers an expansive soundstage rivaling much larger sound bars.
A dedicated center channel with Polk Voice Adjust technology ensures crystal clear dialogue, while Polk's patented SDA technology provides an ultra-wide soundstage with virtual height channels. And the included wireless sub provides deep bass you can feel.
MagniFi Mini AX automatically works with just about any TV and companion remote for fast, easy setup and operation.
Tip: Expand the soundstage around you with Polk SR2 wireless surrounds.
True Atmos Sound Bar With Wireless Sub and Surrounds:
Polk Magnifi Max AX SR
MagniFi Max AX SR's performance-tuned eleven-driver array with height-firing speakers deliver cinematic 7.1.2 Dolby Atmos 3D sound with stunning clarity and detail. Entertainment takes on a dazzling new dimension as sounds fly overhead and all around you, thanks to MagniFi Max AX SR's built-in height drivers and included wireless surrounds; enjoy couch-shaking bass delivered by the included powerful 10-inch wireless subwoofer.
Movie and Music modes provide optimal clarity and detail for each experience. Use Voice Adjust technology to ensure clear dialog, and Night mode to enjoy late-night viewing without disturbing others. Transform your living room into a concert stage by streaming your favorite music via wi-fi, Google Chromecast, or Bluetooth.
Tip: MagniFi Max AX SR sound bars can be wall mounted for placement flexibility in limited spaces.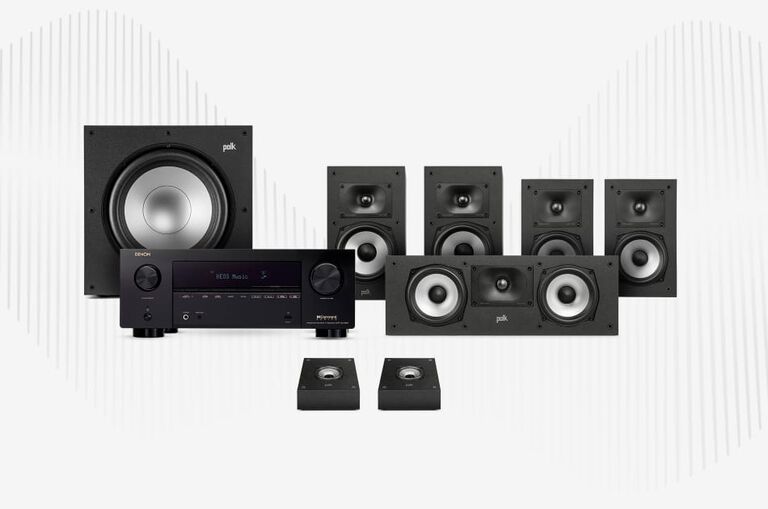 Big-Sounding Bookshelf 5.1.2 System:
Monitor XT20 L And R
Monitor XT15 LS And RS
Monitor XT30 Center
Monitor XT12 Subwoofer
Monitor XT90 HEIGHT Modules
Denon AVR-X2700H AV Receiver
The Monitor XT Series is acoustically optimized to maximize the enjoyment of today's high-resolution and immersive music, movie, and game platforms.
Refined terylene dome tweeters and bi-laminate composite woofers reproduce both traditional and high-resolution audio in exquisite detail. Strategically braced cabinets are acoustically inert, for purer, more authentic sound. Experience overhead Atmos sound with MXT90 height modules, which bring a vertical dimension to the soundstage.
Speakers are timbre-matched for a consistent sound signature, no matter how you set up your system. Sleek, understated cabinets, beautifully finished in Midnight Black, complement the style of any space.
Tip: For even more powerful, room-filling sound, upgrade surrounds to Monitor XT20 bookshelf speakers.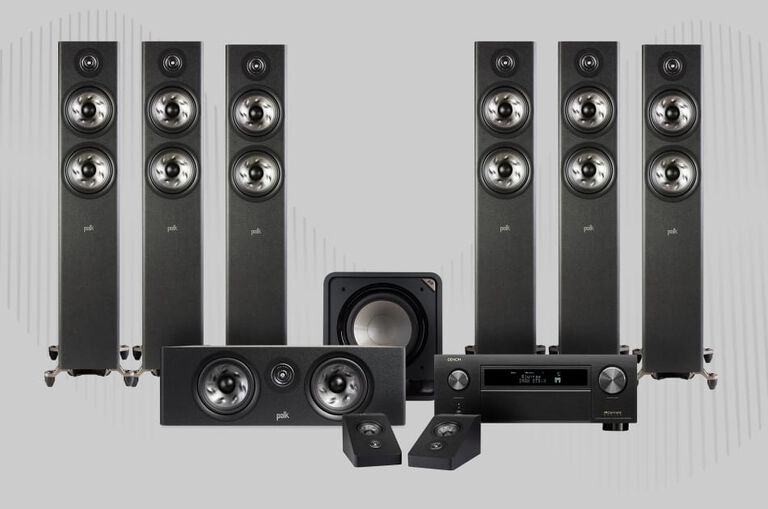 Large-Space 7.1.2 System With Height Modules:
Reserve R600 L And R
Reserve R400 Center
Reserve R600 LS And RS
Reserve R600 LRS And RRS
Reserve R900 Height Modules (2)
HTS12 12" Subwoofer
Denon AVR-X6700H AV Revceiver
The Reserve Series offers the ultimate combination of fidelity and value, borrowing essential technologies from our flagship Legend Series and bringing them to understated, affordable speakers that let the purity of sound take center stage.
These timbre-matched speakers take advantage of acoustic innovations like Pinnacle Ring Radiator tweeters, Turbine Cone woofers, and enhanced Power Port technologies to produce crisp, detailed highs; smooth, balanced mids; and deep, effortless bass.
They're refined and expressive, presenting a broad soundstage with pinpoint imaging. Yet you'll always experience your favorite music, movies, and games exactly as they were meant to be heard, thanks to a transparent sonic profile that never gets in the way of authenticity.
Tip: Don't have clearance under your TV for the large R400 center channel? Choose the low-profile R350 slim center.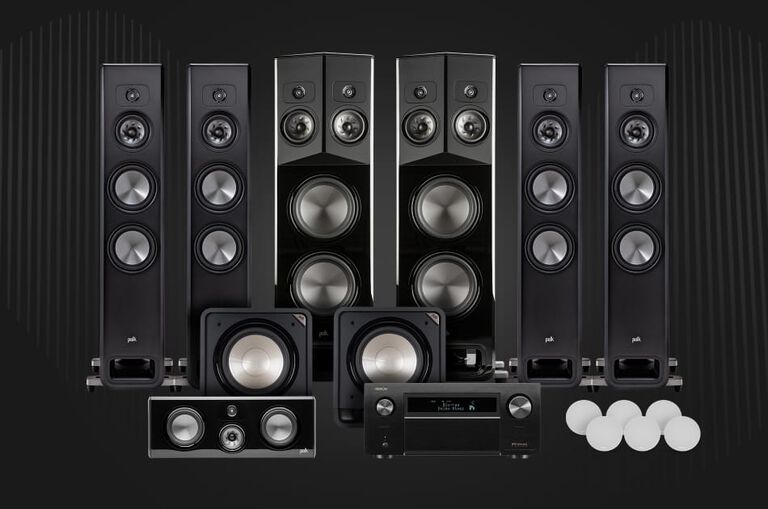 Floor-standing 7.2.6 System With Ceiling Speakers:
Legend L800 L And R
Legend L400 Center
Legend L600 LS And RS
Legend L600 LRS And RRS
80 F/X-LS In-Ceiling Speakers (X 6)
HTS12 12" Subwoofers (X2)
Denon AVR-X8500HA AV Receiver
The flagship Legend Series has been engineered from the ground to present sound that's well-rounded, tactile, and alive, in an intimate, welcoming, immersive soundscape.
Legend speakers represent the culmination of more than four decades of innovation, featuring premium Pinnacle Ring Radiator tweeter and Turbine Cone woofer transducer technologies for unrivaled high-frequency dispersion and natural, balanced midrange. Cabinets are strategically braced and feature enhanced Power Port technology for clean, impactful bass.
You'll be drawn right into the action, thanks to Polk's sophisticated SDA technology, which acoustically isolates stereo channels to provide the most lifelike imaging you've ever heard. Music, movies, and games spring to life in a startlingly realistic three-dimensional soundstage.
Tip: Don't want to install ceiling speakers? Use L900 height modules instead, which nestle right within the tops of the L800 and L600.
Think of these systems as starting points, customizable to your budget and preferences. In part four of our Atmos series, we'll share tips for dialing in the optimal setup in your space. That's when the fun really begins!
Don't miss part 4: Setting up your system.
Products featured in this article