June 21, 2023
Blockbuster movies in dolby atmos to show off your polk sound system
Article written by Sarah Jones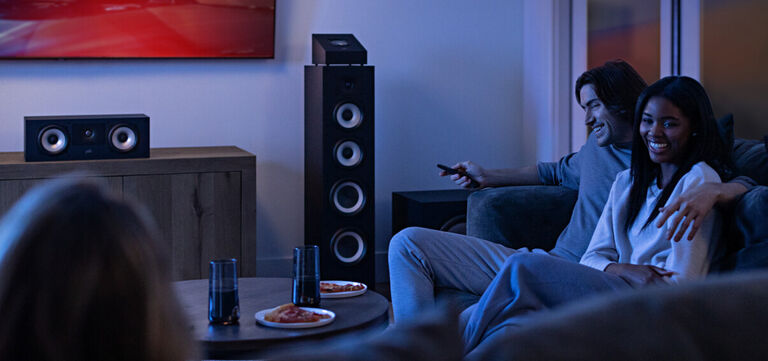 An immersive cinematic experience is about so much more than brilliant visuals. Now that sound technologies like Dolby Atmos have gone mainstream, an immersive surround-sound system is an integral part of recreating movie-theater thrills right in your living room. Designed to deliver an extraordinary audio experience, Polk Dolby Atmos-certified sound bars and component systems are the perfect match for any immersive soundtrack.
There's no cooler way to unleash the true potential of your home theater system than watching some big-budget blockbuster movies in Atmos. Need some ideas for your film fest? We've curated a mini-list of five of our current favorites, which are all available on streaming services. As a bonus, we've thrown in some behind-the-scenes sound trivia for you to share to further impress your movie-loving friends.
From the deep underwater worlds of Avatar: The Way of Water to the adrenaline-fueled skies of Top Gun: Maverick, let's dive into movies that will bring your Polk immersive sound system to life.
Everything Everywhere All at Once
Embark on a mind-bending odyssey into parallel dimensions in Everything Everywhere All at Once and let the movie's richly layered soundtrack immerse you in a symphony of multidimensional effects. From furtive whispers to explosive action sequences, experience the intricate sonic craftsmanship that adds so much depth and dimension to this extraordinary reality-shifting journey.
Sonic behind-the-scenes moment:
To create sound for the scene when antagonist Jobu takes everything she's ever experienced from all iterations of life across the multiverse and puts it onto an everything bagel, sound designer Andrew Twite started by recording ... a bagel, using two microphones to capture crushing, crumbling, and tearing sounds, along with the scraping sounds of a butter knife. "I also intentionally burnt about six pieces of bread and stacked them on top of one another and just slowly crushed all of them at once by putting pressure on the stack with my hands," Twite explained. Those cracks, plus a little time and pitch manipulation, became the main layers of "bagel sound."
Nope
From the visionary director Jordan Peele comes Nope, a masterpiece of a thriller that'll keep you on the edge of your seat. Feel the hairs on the back of your neck stand up as every subtle sound and atmospheric effect heightens the tension in this not-your-average UFO film. From eerie whispers to bone-chilling screams that resonate in the deepest recesses of your soul, you'll be enveloped in a cloak of sonic suspense, intensifying the gripping narrative.
Sonic behind-the-scenes moment:
Nope sound designer Johnnie Burn says wind sounds played a big role in conveying the looming danger of an unseen beast. Using an arsenal of pre-recorded wind noises, Burn painted layers of EQ'ed frequencies over a variety of wind sounds to "tune" them to musical pitches, ultimately adding the scream of a peacock, pitched down seven octaves to create a deep, foghorn-sounding effect.
Avatar: The Way of Water
Transport yourself to the breathtakingly beautiful planet Pandora in the sequel to James Cameron's otherworldly sci-fi epic Avatar. You'll be enveloped in the lush soundscapes of enchanting alien rainforests and immersed in the deep-impact booms of battle. From the gentle rustle of leaves underfoot to the sweeping swells of Simon Franglen's score, hear—and feel—it all as you embark on an unforgettable audio journey.
Sonic behind-the-scenes moment:
To create the nuances of the language spoken by the whale-like tulkun species, Academy Award-winning sound designer Christopher Boyes drew from the library of Avatar sounds he began building in 2017, combining marine sounds (including humpback whale recordings he made in Hawaii) with whistle sounds that evoked joy. "The language of the tulkun has been the biggest challenge of my career," he said.
Puss in Boots: The Last Wish
Grab your kids and some snacks, because after a decade-long break, everyone's favorite leche-loving feline hero is back for another swashbuckling adventure in Puss in Boots: The Last Wish. The movie's rich and dynamic immersive sound design brings every deep purr, clanging sword clash, and snappy bit of dialog to life in a truly charming, cinematic audio presentation.
Sonic behind-the-scenes moment:
Puss in Boots breaks from its frenetic pace in a pivotal scene when Puss becomes overwhelmed by fear as he considers that he has used up eight of his nine lives. Here, the filmmakers felt that his panic should feel "real" and "important," working with clinicians and drawing from personal experiences to build a sonic palette grounded in reality, stripping things down to the sounds of the character's breathing and his heartbeat. "We did things to make it feel fuller, more low frequency, more low energy because just a normal heartbeat sound would be a bit underwhelming. We wanted the audience to feel what Puss felt about his own heartbeat," said sound designer Jason Jennings.
Top Gun: Maverick
Get ready for a sonic assault on the senses with Top Gun: Maverick. Strap in and speed through the skies as the roar of jet engines surrounds you. Experience the rush of wind whistling past your ears and the explosive impact of high-speed dogfights in an immersive soundscape that brings every detail of the aerial adventure to life, putting you right in the pilot's seat.
Sonic behind-the-scenes moment:
Many of Maverick's jet sounds were authentic, including recordings of turbines and jet thrusters. But to accompany a dramatic visual of the fictitious DarkStar jet cruising at Mach speed, glowing jet streams illuminating its wings, supervising sound producer Al Nelson employed a recording of the humming sound made by cars driving over Cincinnati's Roebling suspension bridge, which spans the Ohio River. "It's such a beautiful visual, and we wanted to put something in there that was tonal and special," he explained.
Whether you're exploring mythical realms, soaring through the sky, or navigating alternate dimensions, prepare to be spellbound as your Polk sound system envelops you in a world of wonder. Elevate your home theater experience and let Polk sound systems redefine the way you enjoy movies.
Explore Polk Dolby Atmos Systems