May 25, 2023
How to Set Up a Classic Turntable Sound System
Article written by SARAH JONES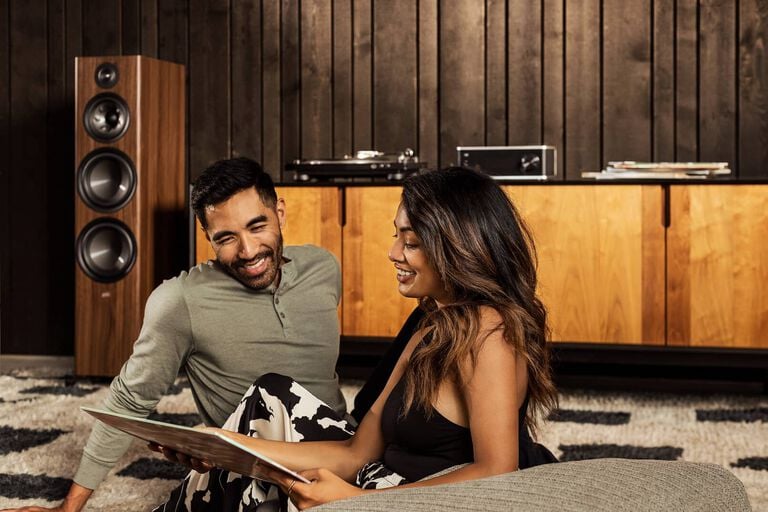 Vinyl records have made a major comeback in recent years, and music lovers everywhere are rediscovering the joys of that warm, analog sound. Adding a turntable to your sound system lets you expand your entertainment options and experience your favorite music in a new way—but it can be a bit intimidating if you've never done it before. We'll show you how to set up your first vinyl playback system and share tips for getting the best sonic performance out of your equipment.
Note: While turntables can be incorporated into almost any sound system, from Bluetooth and wi-fi–based setups to powered speakers and sound bars to multi-speaker surround-sound systems, here we're focusing on the most common setup for vinyl enthusiasts: a turntable, amplification, stereo speakers, and a subwoofer. Let's start by walking through the core components.
Choosing a Turntable
The turntable is the heart of your vinyl-listening experience. When choosing a turntable, decide whether you want a motorized belt-drive or direct-drive model. Motorized belt-drive turntables, which use a motorized belt to spin the turntable platter, generally offer smoother, quieter performance, while direct-drive turntables (the kind used by DJs) have a motor underneath the platter and tend to be more durable, with better speed stability and faster start-up times.
The audiophiles here at Polk love the Marantz TT-15S1 turntable, a spare-no-expense belt-drive system with a floating motor. Defined by its pristine fidelity, immaculate detailing, and frosted acrylic platform, this beauty looks as sweet as it sounds.
For those on a budget, the Denon DP-29F belt-drive turntable features an automatic system that starts playing at the touch of a button, and when the music stops, the tone arm returns to its original position. It includes a phono equalizer and an MM (moving-magnet) cartridge to fine-tune your sound, and clocks in under $200.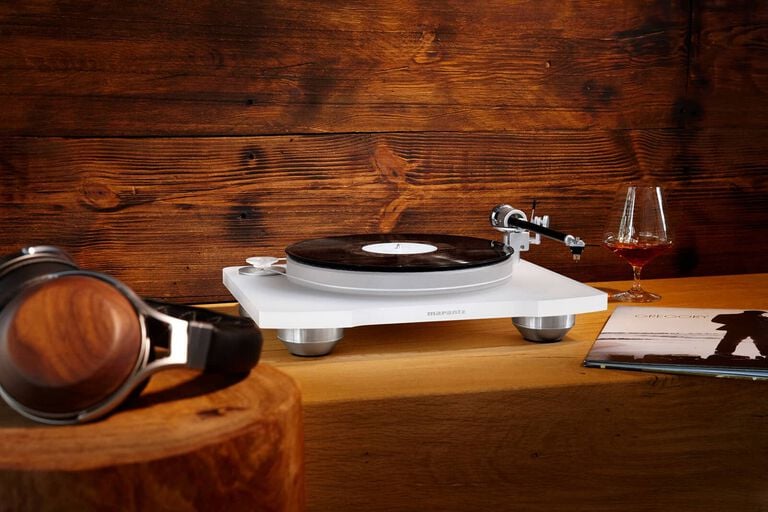 The luxurious-sounding (and looking) Marantz TT-15SI turntable.
Why You Need a Phono Preamp
The signal generated by the turntable's stylus, called a "phono" signal, is extremely weak and must be converted to a stronger "line level" (or "AUX") signal before it can be used in your sound system. (Without a phono preamp, the sound from the turntable would be barely audible and would have too much treble and not enough bass.)
This is where the preamplifier, or "preamp," comes in: It amplifies the low phono signal and converts it to a line-level signal that's strong enough to be processed by your system's main power amp and played at an appropriate level through your loudspeakers. A phono preamp can be a standalone box or built into a turntable, receiver, or amplifier. A turntable with a built-in preamp outputs a standard line-level signal, just like a CD player.
TECH TIP: Turntables that don't have a built-in phono preamp need to be grounded in order to avoid producing a humming sound; these models feature a ground wire that attaches to an external preamp.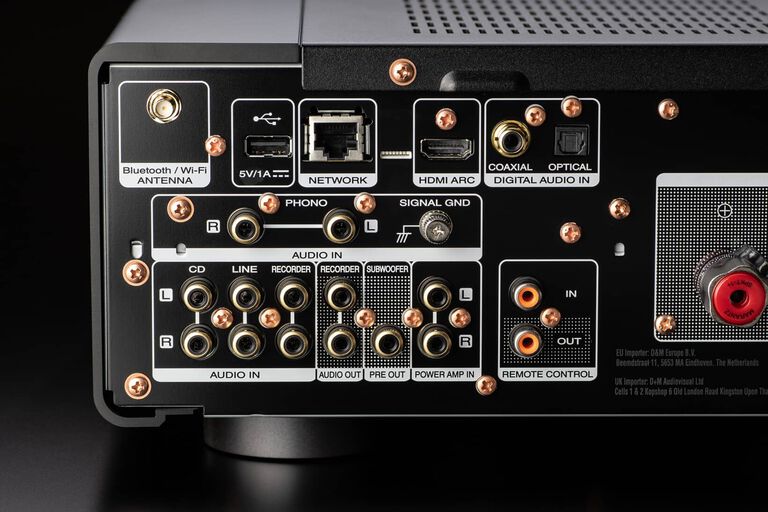 The Marantz 40n receiver's input section, with a ground connection ("SIGNAL GND") to the right of the phono inputs.
Amplifier or Receiver?
An amp powers your speakers, providing the amplification necessary to produce high-quality sound. Amplifiers generally fall into two categories: An integrated amplifier combines a preamplifier and amplifier in a single unit. An AV receiver is a more complex device that pairs an integrated amplifier with additional features such as a radio tuner; Bluetooth, wi-fi, and smart assistant compatibility; and multichannel audio support. While both an integrated amplifier and an AV receiver can power your speakers, an AV receiver is better suited for home theater setups, and an integrated amplifier is a great choice for simple stereo setups for music listening.
TECH TIP: Many AV receivers have a built-in phono preamp stage. If you see a PHONO input, there's a phono preamp inside.
When choosing an amplifier or receiver, there are a few technical factors to consider. The first is power output, which is measured in watts. The more power an amplifier has, the louder, clearer, and more dynamic your music will sound. Another important factor to consider is compatibility with your speakers. Choosing an amplifier that's not compatible with your speakers can lead to poor sound quality and damage to your equipment. The great news is, Polk speakers work perfectly with Denon and Marantz amps and receivers.
Don't know where to begin your amp journey? We're huge fans of the gorgeous, musical Marantz 40n integrated amplifier (bonus: it has built-in streaming and HDMI connectivity), and we're also partial to the accessibly priced Denon DRA-800H 2.2-channel receiver and the fully loaded Marantz SR7015 9.2-channel AV receiver, which both support HEOS wireless whole-home audio.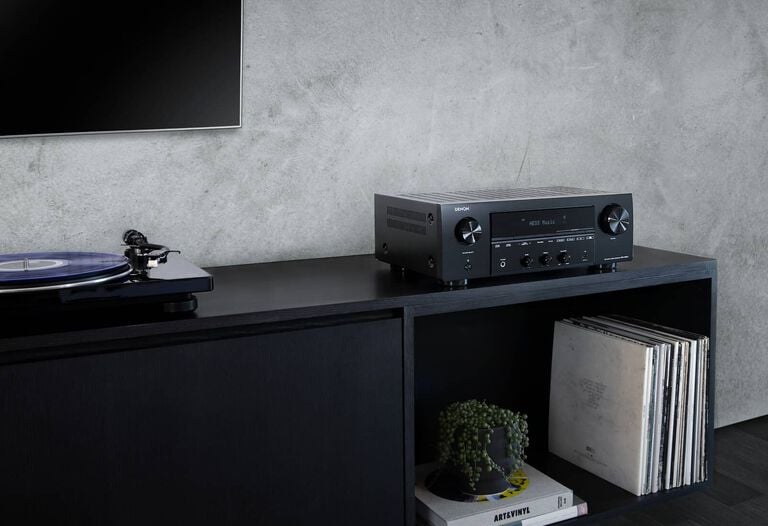 The Denon DRA-800H 2.2-channel receiver.
Choosing the Perfect Loudspeakers
Now, for our favorite part: speakers! Your loudspeakers are the most important part of your music sound system because they have the biggest impact on the quality of your listening experience. With their ability to deliver stunning sonic detail, lifelike imaging, and powerful sound that you can feel, your speakers are the key to unlocking the full potential of your music collection.
When choosing speakers, consider the size of your space: Large, floor-standing speakers produce more powerful, richer, deeper sound than bookshelf speakers and can handle high volumes, but are best for medium-to-large spaces. If they're used in a tiny room, they can't always be cranked up to their sweet spot where they're designed to perform the best. If you seek an incomparable audio experience in tower speakers, check out Polk's flagship Legend L800, which showcases groundbreaking innovations like our patented SDA technology for truly breathtaking, larger-than-life stereo sound.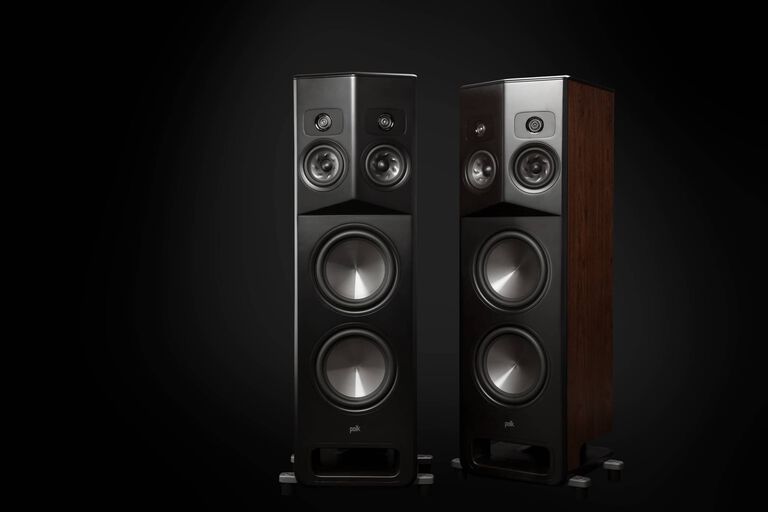 Polk's flagship L800 floor-standing speaker.
Bookshelf speakers are versatile choices for a range of small-to-medium spaces. Although they generally don't produce as much bass as their larger siblings, they still offer rich, full-range sound. And, they can be easily supplemented with a subwoofer, such as the 10" Polk Monitor XT10 or the 12" Polk HTS12 with Power Port technology, if you crave more visceral lows.
Polk offers a broad selection of bookshelf speakers; if you're looking for something really special to complete your system, check out our Reserve R200AE 50th Anniversary Edition bookshelf speaker, which embodies all of the acoustic innovations that make the R200 a Polk classic, with distinctive touches worthy of a rare collectible, like fine cherry veneers and upgraded crossovers. If you're looking for a more affordable option, the Signature Elite ES20 bookshelf speaker, which features a Dynamically Balanced acoustic array, precision crossovers, and Power Port bass-enhancing technology, is a great choice.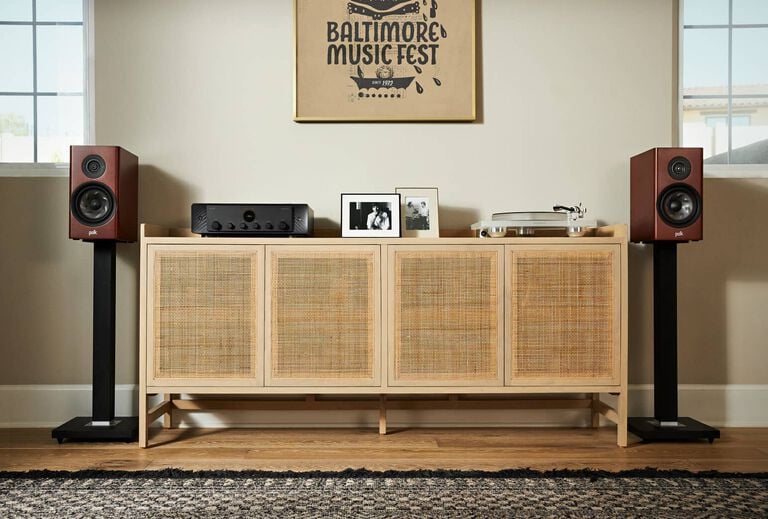 The Polk Reserve R200AE bookshelf speaker is a collectors' favorite.
Get Ready to Rock
When you set up your speakers, make sure that they are positioned correctly for an optimal sonic presentation, with the tweeters at ear level and the speakers at equal distances from the listener. It's a good idea to place bookshelf speakers on stands, rather on the same surface as your turntable, to prevent speaker vibrations affecting the turntable stylus at high volumes.
Connect your speakers and turntable to your amplifier using the correct cables. Make sure that the cables are connected to the correct inputs and outputs, and that the turntable is level and properly grounded.
Many turntable users take vinyl storage into account when choosing stands or consoles. Some choose consoles designed specifically for records and record players while others repurpose furniture. (Ikea Kallax hacks are popular with vinyl collectors everywhere, thanks to the storage system's customizability and affordability; there's even a bespoke version designed in collaboration with Swedish House Mafia.)
Embrace the Journey
Building a turntable sound system is more than just a technical process; it's an emotional experience that taps into the essence of why we love music. There's nothing like the warmth and depth of sound that vinyl records provide, and with the right components and setup, you'll enjoy every nuance and detail of your favorite albums. By taking the time to choose the perfect gear, set it up correctly, and care for it, you'll be rewarded with sound that moves you to your core. And, isn't that what it's all about?
Products Featured in This Article